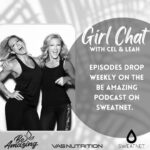 We are reminding you that the only way to build your confidence is to challenge yourself and keep those promises you made. Can you trust yourself to show up or do you need work in this area?
Can you look back at your past week, month, year and notice where maybe you haven't shown up for yourself? You haven't done the things that you said you were going to do?
IN THIS EPISODE:
-We recap the 1 year anniversary of Be Amazing Weekend and what that event did for, Cel.
-We share tips on taking big goals and breaking them into small steps and remind you that all that matters is that you are showing up.
-Everyone deals with confidence issues
-Finding your people is part of any goal
-Already looking into 2023
CONNECT WITH US:
Connect with Cel & Leah: @cpmethod @itscelsmart @leahelizabeth_v
WEBSITE: https://www.cpmethodfit.com/
Sponsors : @Sweatnet @Vasnutrition @beamazingweekend
Join us for GLOW on Nov 5th. Click the link below to register now.
Promo Code: Glow22