Grilled Chicken Thighs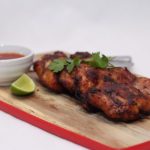 Enjoy these easy, flavorful chicken thighs for dinner or as part of your weekly meal prep!
1 lbs chicken thighs (boneless)
2 tbsp mustard
2 tbsp coconut aminos
2 tbsp olive oil
1 tsp salt
1 tsp pepper
1 tsp garlic (minced)
Preheat grill on medium heat

Place chicken thighs in a tupperware dish or gallon sized ziplock bag

Add marinade ingredients and shake until thighs are evenly coated.

Grill 5 minutes per side and then an additional 3-4 minutes per side until chicken is fully cooked.

Let cool & enjoy!