Grilled Pork Tenderloin with Grainy Mustard Vinaigrette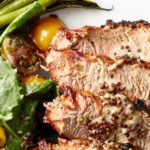 A heart-healthy dish with unprocessed ingredients that will fill you and your guests!
12 oz green beans
2 tbsp olive oil (divided)
1 1/4 lb pork tenderloin
3 tbsp grainy mustard (no salt added)
2 tbsp red wine vinegar
1 small shallot (finely chopped)
1 tsp mayonnaise
6 cups kale
1 pt grape tomatoes (cut into halves)
Toss green beans with 1 teaspoon olive oil and 1/4 teaspoon salt; arrange on one half of tinfoil. Fold foil over; crimp to seal tightly. Grill, covered, on medium for 20 minutes.

Brush pork tenderloin with 2 teaspoons olive oil. Season with 1/2 teaspoon each salt and pepper. Grill, covered, on medium until cooked (145*F), turning occasionally, 18-20 minutes. Let rest for 5 minutes, then slice.

Whisk together grainy mustard, red wine vinegar, shallot, 1 tablespoon olive oil, mayonnaise, and 1/4 teaspoon salt.

Toss kale and grape tomatoes with half of the vinaigrette. Serve with green beans, pork and remaining vinaigrette.