Healthy Crockpot Stuffed Peppers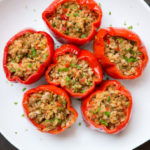 4 green bell peppers
1 lb. ground turkey
1 32 oz. can crushed tomatoes
1 tbsp dried basil
1/4 cup onion (chopped)
1-1/2 cups rice (cooked)
2 tsp seasoned salt (divided)
Cook turkey and onions in pan until browned
Combine ground turkey, onions, rice and 1 tsp seasoned salt and mix well.
Chop off the tops and hollow out each pepper, removing all seeds.
Evenly stuff each pepper with the turkey/rice mixture.
Place stuffed peppers in the slow-cooker.
Combine crushed tomatoes, basil and 1 tsp seasoned salt to make a sauce.
Cover stuffed peppers and the bottom of the slow-cooker with the sauce.
Cover and cook on low for 6-8 hours.