Healthy One Pan Chicken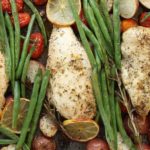 2 whole Chicken Breast
2 whole lemon ((juice))
4 tsp honey
1 tsp salt-reduced soy sauce
1 clove garlic (crushed)
1 tbsp fresh chopped parsley
1 pinch sea salt and ground black pepper (to taste)
1/2 whole lemon (sliced)
3-4 whole small potatoes (quartered)
1/2 tbsp olive oil
1/2 clove garlic (crushed)
8 whole cherry tomatoes
120 g green beans (trimmed)
Preheat oven to 400°F and line a baking pan with parchment paper.
Lightly spray the lined tray with olive or avocado oil spray and arrange the chicken in the middle of the baking tray. Season with salt and pepper, if desired.
Whisk the lemon juice, honey, soy sauce, garlic, half of the parsley, salt and pepper together in a small bowl. Pour three quarters of the mixture over the chicken and arrange the sliced lemon over the top.
For the vegetables, whisk the oil and garlic together in a large bowl. Add the potatoes and tomatoes and toss gently to combine, making sure they are lightly coated in olive oil and garlic.
Arrange the potato and tomatoes in a single layer around the chicken and bake in the oven for 20 minutes. Remove the pan from the oven and, using tongs, turn the chicken and potatoes over. Add the beans and pour over the remaining lemon and honey mixture. Return the baking tray to the oven and cook for a further 10 minutes, until the chicken is golden and cooked through and the vegetables are cooked.
To serve, sprinkle over the remaining parsley. Enjoy!