As a new flight attendant, the two things I was most concerned about from the beginning of this lifestyle transition were how am I going to eat even semi-clean on the go and where in the world am I going to workout? I couldn't afford drop-in rates at every boutique gym I came across and eating at hotels and airports gets expensive and calories add up so fast! I quickly learned that meal prepping and planning workouts were going to be my keys to success.
Before starting in the airline industry, I worked at the YMCA of Greater Charlotte, Flywheel, Y2, and Project LeanNation. Through all of those jobs, I was on a drastic fitness journey of my own, losing around 35 pounds total. This all began with eliminating foods that didn't agree with me: dairy, fried foods, soda, and excessive sweets. After I started getting my eating under control, I began to find a community of people that pushed me to sweat off some of the pounds. My taste buds have changed and so has my attitude towards working out. I used to skip workouts and make every excuse in the book as to why I wasn't there. Now, it's just part of my life to get a sweat in and move forward. I used to eat both Bojangles AND Taco Bell every. Single. Day. I now enjoy broccoli, sweet potatoes and grilled chicken for most meals.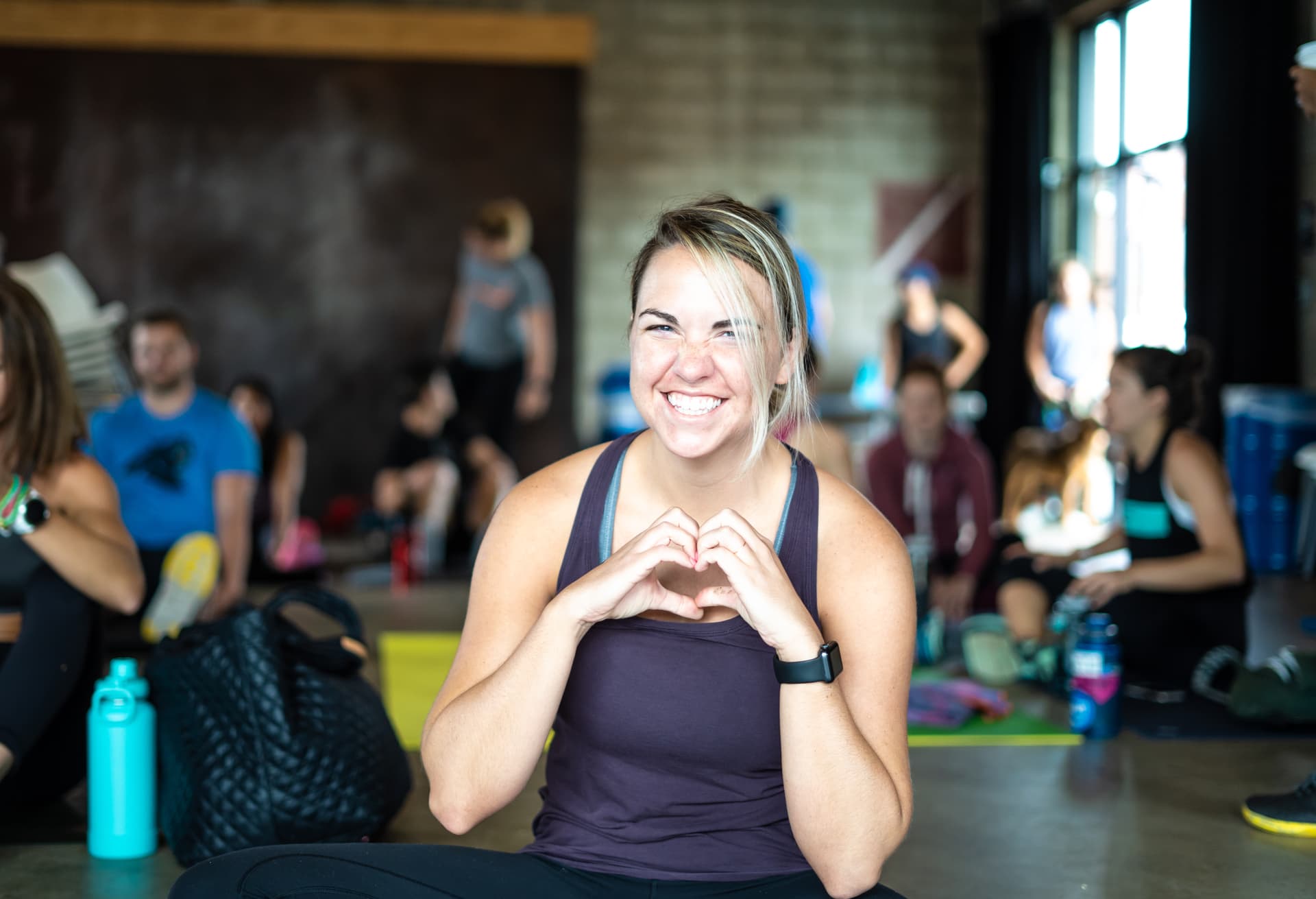 To continue with my active and healthy lifestyle while still setting fitness goals for myself, it is extremely important that I stuck to this lifestyle that took me so long to build to shed some weight and gain healthier habits.
While in my eight weeks of flight attendant training, we regularly were scheduled for 12 hour days in the classroom and then plenty of time dedicated to studying afterwards. For my sanity, I got a membership at CorePower Yoga in Midtown Atlanta. I usually was out of training by 5-6pm and that was perfect timing to sit by myself for about 45 minutes in traffic and attend a class around 7:15pm. I learned that I really, really enjoy hot yoga. Before training, I was pretty strictly attending Flywheel and MADabolic classes in Charlotte. During training, I was beyond exhausted and it was everything I could do to get to a yoga class. My eating changed a bit during training for the worse. I had very limited access to a fridge and microwave, so I ate a LOT of PB&J. I would continue to drop into Flywheel Classes or SolidCore classes in Atlanta when I had the chance, but my strength workouts were on hold for about eight weeks. I was measured for uniforms at the beginning of training and again at the end and I dropped two dress sizes in eight weeks. Still not sure exactly what happened here, but hey, who's ever complained about that?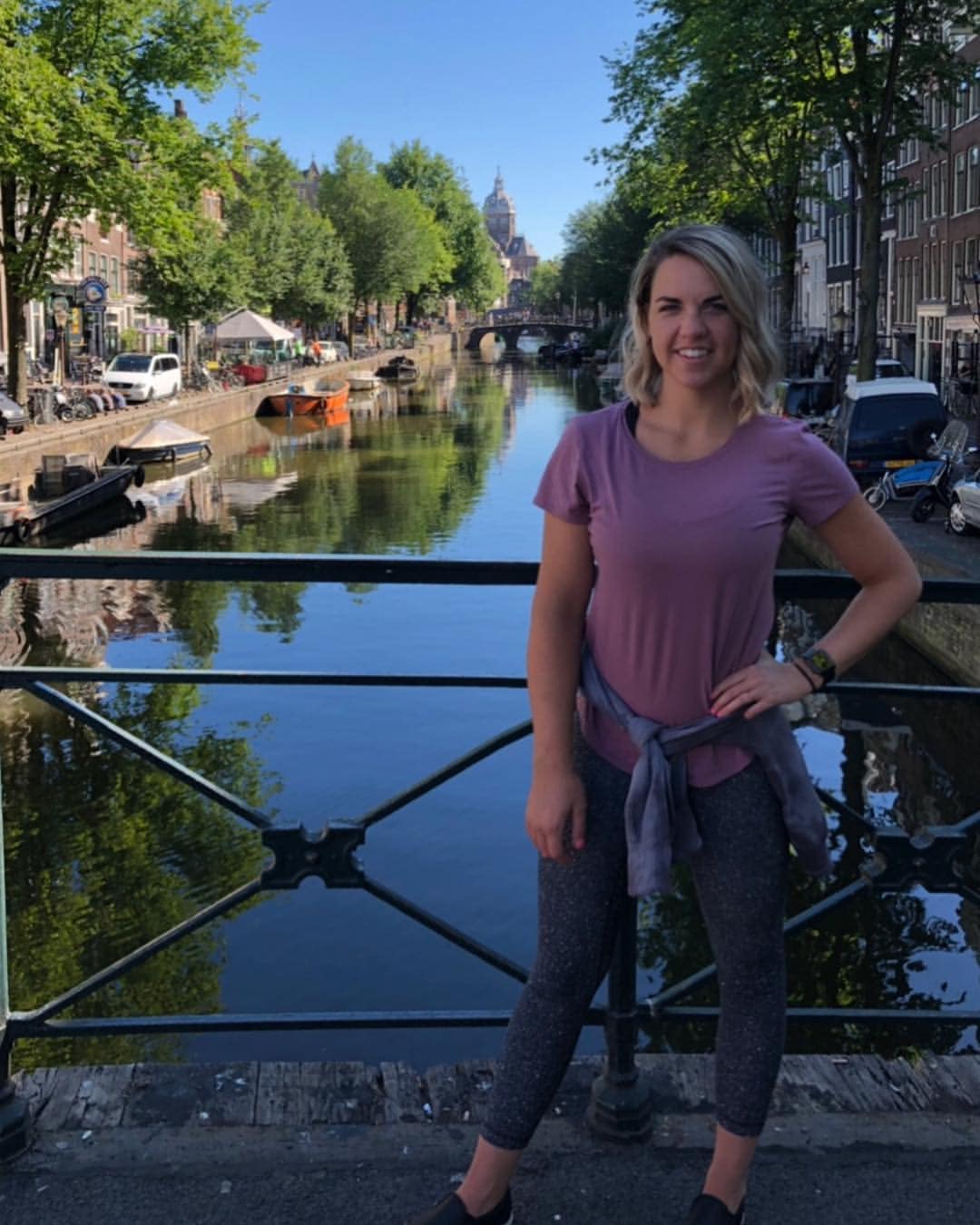 When I first started flying, I ate everything on the plane and then some. I was a bottomless pit. I was absolutely insatiable. I would purposely eat before getting on board, only to find myself at 10,000 feet starving again. I would losing weight drastically, through I was eating like a teenage boy. The one thing I wasn't used to was learning to eat when you can. There are days when you physically don't have time for more than one meal. There are nights when you land at an airport with nothing open, nothing around your hotel, and the hotel restaurant closed. Those were days I would just sit in my hotel room and cry because I was so tired and so hungry. Thankfully, those days were few and far between.
Once I started getting into a routine with flying and being on the road (in the air?) all the time, I started to grasp that I had to plan out my snacks and meals. A typical day of eating for me starts with a shake. I am a big fan of the Garden of Life Vegan protein, Vital Proteins, and almond milk. It's super easy to throw in a blender bottle and I can guarantee I'm getting some protein in my system to start the day. For lunch, I typically bring a Project LeanNation to heat up in the ovens onboard or microwaves in my hotel room. The hardest part about this is keeping them cold all day and hoping you have a microwave and mini-fridge in your hotel room! If I'm not opting for a PLN for lunch, I normally save it for dinner and have Chick-fil-A. Chick-fil-A is a great option if you're looking for grilled chicken and a lot of protein. I normally get a grilled chicken sandwich with an extra grilled chicken breast. It's a lot of meat but it's filling and it helps me stay on track. Dinners are often oatmeal onboard or salads at nearby hotels/restaurants. Snacks normally consist of a jerky of some sort, another shake, oatmeal, or something else that is super filling and that will keep me from eating all the snacks onboard! Eating enough of the right kind of foods is the constant problem I keep running into due to time and availability.
Since starting flying, I hired fellow SweatNET Ambassador, Finley Amato (@bacon.and.squats) to help me with my Macro intake. She has opened my eyes to a world of eating more, planning my eating, and keeping me on track. She helps point me in the direction of foods that are higher in protein and lower in fats, since that is one of my common eating mistakes. I recently texted her and let her know I hit all of my macros (which for me is hard to do) and that I was still STARVING. Immediately, she had a list of foods that would be better alternatives to the foods I likely ate that would be more filling for future reference. "Jet Belly" is something flight attendants get due to being in the air all the time. It's just extra air from being up in the air all the time that gives a bloated look after a long day of flying. Finley suggested taking Magnesium and poof! Jet belly is gone! She's full of wonderful knowledge about sports nutrition, but also eating well while traveling since her previous career had her traveling so often for work.
As far as working out, I kept my ClassPass account active and utilize it when I can. My favorite hack is to utilize the app to see what studios are around me and then I figure out if they have a "first class free" or a discounted first time drop in rate, or if I'd like to use my credits through ClassPass. It also helps me just filter what's near my hotel so I can plan to walk to my workout, grab a CitiBike/LimeBike/etc., or uber there. Sometimes, it's just more convenient to use the hotel gym and bring your own resistance bands. I've found that if I'm just absolutely beat from a long day of travel, grabbing my resistance bands and putting some towels on the floor to do some pilates-style moves for 30 minutes is enough to get my heart rate up and to break a light sweat. The beauty of being in a different city every day is that a brisk walk around exploring and finding my next favorite coffee shop helps me add to my average 5-7 miles I normally walk just due to my job, alone. You can find a way to move anywhere you go, you just have to commit to prioritizing your health. It's easy to lay in bed and watch Netflix and order room service everywhere I go. I make a conscious decision not to so that my workouts and eating at home count for something. I have goals I want to reach. I don't want to be complacent, and I surely don't want those two dress sizes back from the beginning of training.
In my next blog posts, I'll be showing you what I pack in my carry on, a food journal of a normal three day trip, as well as a tour of gyms that I've been to across the country! I can't wait to take you along my travels!