Kale Chips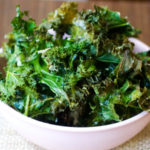 1 whole bunch kale (stems removed and torn into pieces)
1 – 2 tablespoons organic olive oil or avocado oil (spray)
sea salt to taste
fresh ground pepper (optional)
Preheat oven to 300 degrees.
Line a baking sheet with parchment paper.
In a bowl, massage or spray kale evenly with olive/avocado oil on both sides and spread onto baking sheet in a single layer.
Sprinkle with preferred seasoning (salt and pepper).
Bake 20-25 minutes, turning once, until kale is dry and crispy.
Serve immediately!
Keep an eye on the kale during bake time as it turns quickly from dry and crispy to burnt!
[nutrition-label]