Keto Mexican Skillet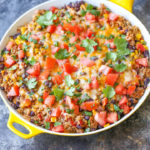 1 lb 93% or 96% lean ground beef
3 tbsp olive oil
1/2 whole yellow onion (diced)
1 whole medium head of cauliflower (or one packet of riced cauliflower)
1 small can diced tomatoes (drained)
1 tsp paprika
1 tsp garlic powder
1 tsp onion powder
1/2 tsp chili powder (optional)
1 tsp cumin
1/4 cup vegetable or beef broth
2 cups Trader Joe's shredded almond cheese or cheese of choice
1/2 cup black beans (drained)
salt and pepper to taste
The garnish
1/2 yellow or green bell pepper
Freshly diced grape tomatoes
1 jalapeño (sliced)
One avocado (diced)
1/4 red onion (minced)
Fresh chopped cilantro
Lemon or lime slices
Rinse and break the cauliflower head into small florets and roughly chop in a food processor.
In a large skillet, sauté diced onion in 2 tablespoons of olive oil, until slightly translucent and softened.
Add lean beef to the skillet and season with salt and pepper. Cook over medium high heat until beef has started to brown. Remove from the skillet and set aside.
In the same skillet, add the remaining tablespoon olive oil and sauté cauliflower rice for about 2 minutes. Stir in seasonings: onion and garlic powder, paprika, cumin and chili powder. Mix well and continue to cook for a couple of minutes.
Add diced tomatoes, black beans and vegetable broth to skillet. Bring to a simmer, and allow the vegetables and seasoning to soak up some of the broth.
Add beef and onion back to the skillet and give a quick stir (you can also keep beef on top of cauliflower for serving if you like). Sprinkle with shredded cheese, cover the skillet and let set for 2-3 minutes off heat to melt cheese.
Garnish with fresh tomatoes, bell pepper, red onion, sliced avocado, Jalapeño slices, lime slices and cilantro. Serve hot and enjoy!