Keto + Paleo Turkey Chili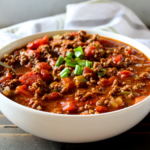 1-1/2 tbsp olive oil (divided)
1/2 cup onion (diced)
1 cup red pepper (diced)
1/2 cup celery (chopped)
1 tbsp garlic (minced)
1 lb lean ground beef
4 tsp chili powder
1 tbsp paprika
1/4 tsp cayenne pepper
1/8 tsp ground all-spice
1 14 oz can Fire roasted diced tomatoes
1 14 oz can crushed tomatoes
1/2 cup water
2 tbsp tomato paste
1 tsp Sea salt
1 pinch of pepper
2 whole Bay leaves
1/4 cup parsley (chopped)
Pour 1 Tbsp of the oil into your stove pot or Instant Pot. Once hot, saute the peppers, onions, celery and garlic until they begin to soften, about 3 minutes.
Add the remaining oil, along with the beef and cook until it begins to turn brown, about 3-4 minutes. Soak up/drain the excess fat and discard.
Add in the chili powder, paprika, cayenne and all-spice and cook until the beef is cooked through and no longer pink, about 3-4 minutes.
Add all the remaining ingredients, except the parsley, and stir until well combined. Cover the pot and let simmer for 1 hour or 10 minutes based on your pot, respectively.
Once heated all the way through, plate your chili and top with chopped parsley.