Photo: https://sugarfreelondoner.com/low-carb-keto-chicken-soup/
Low Carb Chicken Soup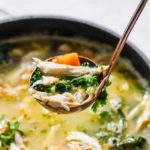 There's nothing better on a cold winter day than a bowl of warm Chicken Soup!
1 tbsp avocado oil (can substitute olive oil )
1 small yellow onion (finely chopped)
2 medium carrots (peeled and chopped)
1 small leek (chopped)
3 medium celery stalks (chopped)
1 tbsp fresh thyme (chopped)
1/4 cup fresh parsley
1 garlic clove (minced)
6 cups chicken stock (unsalted, or low salt)
2 bay leaves
1/2 tsp salt (or to taste)
1/4 tsp black pepper (or to taste)
2 cups chicken breast (cooked and shredded, can substitute chicken thighs)
1 cup kale (can substitute spinach)
Heat avocado oil in a nonstick soup pot and saute onion, carrots, celery, leek, and thyme over medium heat for about 5 minutes.

Add garlic and saute for another 2-3 minutes.

Add the stock, bay leaves, season and bring to a boil.

Reduce to a simmer and cook with the lid on for 15 minutes.

Add cooked, shredded chicken.

Remove bay leaves from the pot.

Add kale and simmer until softened, about 1 minute.

Scoop soup into bowls and enjoy!