Maple Bacon Brussel Sprouts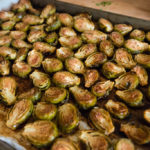 The perfect side dish to compliment really any main dish! Perfect for holiday parties!
1 lbs Brussel sprouts
1/4 cup avocado oil
3 tbsp maple syrup
1/2 lbs bacon (chopped)
1/2 tsp salt
1/4 tsp pepper
Preheat oven to 425*F

Chop bacon and place in skillet. Cook until crispy.

Cut Brussel sprouts in half and place in a baking dish. Drizzle with avocado oil & maple syrup. Toss to coat. Sprinkle with bacon and season with salt and pepper.

Roast in preheated oven for 35-45 minutes.

Enjoy!