Mediterranean Chickpea Salad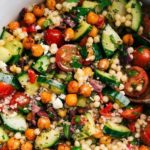 An easy salad to throw together with good-for-you ingredients, and great for meal prepping!
Chickpeas
15 oz chickpeas (rinsed and drained)
1 tbsp olive oil
1/2 tsp ground cumin
1/2 tsp ground chili
1/4 tsp cayenne pepper (optional)
pinch salt
pinch pepper
Salad
4.7 oz couscous (pearled; roasted garlic and olive oil flavored, 1 package)
1 1/2 cups cucumber (chopped)
1 1/2 cups cherry tomatoes (halved)
1/2 cup kalamata olives (chopped)
1/4 cup parsley (finely chopped)
1/2 cup roasted red bell pepper (jarred; chopped)
pita bread (optional; toasted)
lemon juice (optional )
feta (optional)
Salad Dressing
4 tbsp olive oil
1-2 large lemons (1/2 tsp zest; 2 tbsp juice)
1 1/2 tbsp red wine vinegar
2 tbsp honey
1 tsp dijon mustard
1 tsp oregano (dried)
Preheat oven to 400*F. Line a baking sheet with aluminum foil.

Place chickpeas in a bowl and add 1 tablespoon olive oil, cumin, chili powder, cayenne pepper and salt. Toss well, making sure chickpeas are evenly coated.

Spread chickpeas in an even layer over a baking heet and bake for 25-30 minutes, tossing halfway until they are crisp.

Let chickpeas cool after cooking.

Prepare couscous mix according to package instructions.

After chopping vegetables, toss all of the vegetables together. (Leave out olives if you are meal prepping and add in once ready to eat).

Prepare the dressing by whisking all of the dressing ingredients together until well combined.

To enjoy immediatley, mix chickpeas, salad, and dressing together!

If meal prepping, keep dressing on the side with the olives until ready to enjoy!
Photo from: https://www.chelseasmessyapron.com/chickpea-salad/