Mediterranean Stuffed Sweet Potatoes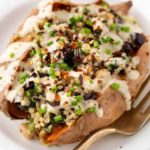 Vegan stuffed sweet potatoes with protein, complex carbs, tons of fiber and healthy fats!
2 medium sweet potatoes
1 tbsp olive oil
2 cups spinach
1/2 cups chickpeas (rinsed and drained)
1/4 cup sun-dried tomatoes (chopped )
2 tbsp kalamata olives (chopped)
1 cup quinoa (cooked)
1/2 tsp dried thyme
1/2 tsp dried dill
1/2 tsp garlic powder
pinch salt
pinch pepper
To garnish:
1 tbsp tahini
1 tsp lemon juice
1-2 tbsp water
pinch salt
pinch pepper
pinch chives
pinch red pepper flakes
Preheat oven to 400*F.

Puncture sweet potatoes with a fork and place them in a baking dish. Bake until soft, and knife slides into the flesh easily, about 35-45 minutes depending on the size of the potato.

Meanwhile, prepare quinoa mixture by heating oil in a saute pan over medium heat.

Add the rest of the ingredients (from spinach to salt and pepper) and saute until warm.

When sweet potatoes are soft, remove from the oven. Once cooled, transfer them to a plate and split them open with a knife and spoon in quinoa mixture.

Whisk together the tahini, lemon, salt, pepper, and water then pour on top of the sweet potatoes. (Start with 1 tbsp of water and add more to thin)

Garnish with fresh chives and red pepper flakes. Serve immediately and enjoy!
Photo from: https://www.simplyquinoa.com/vegan-stuffed-sweet-potatoes/