One Pan Flank Steak & Vegetables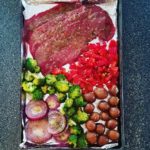 2 lbs flank steak
2 lbs small red potatoes
2 cups broccoli
1 whole medium onion (sliced)
1 whole red pepper (chopped)
4 cloves garlic (minced)
1/4 cup of light extra virgin olive oil
1-2 tbsp ground cumin
1 tbso dried oregano
salt and pepper to taste
Set your oven to HI broil
Grease sheet pan with olive oil.
Separately boil the potatoes with salt for 20 minutes.
In a large bowl, combine 2 cloves of garlic, the olive oil, the spices (salt, pepper, oregano and cumin). Add in the broccoli, onions, red pepper and boiled potatoes and mix until evenly coated with spice mixture. Transfer to the baking sheet.
Season the flank steak with pepper, salt, and the rest of the garlic, and cut into thin slices and add to the baking sheet.
Put the baking sheet with all of the ingredients in the broiler for 5 – 7 minutes and then flip the meat and continue cooking on broil for 5 – 7 more minutes or until cooked to liking.
Serve hot!