'Tis the season…to procrastinate!
If you're like me, you spend a lot of time researching to gather the perfect gifts for your people. But we all have those giftees that are seemingly impossible and get you sidetracked. If some of those on your list happen to fall into this category and are wellness and fitness fanatics, I have all you need right here. Here we go…
For the sporty + sweet ladies in your life…
I love my Lululemon Vinyasa Scarf. I have it in a few colors, and wear them constantly.
I also really love these 'Grateful' and 'Namaste" Pom Beanies by Spiritual Gangster.
I am obsessed with this Aviator Nation Bolt Faded Sweatshirt, and if you want to spring for the matching set…I don't think you'll be disappointing anyone!
Every chic + sporty gal likes to add in a little more spice. I love pairing my "business casual" with some gems from Twine & Twig or Raven & Riley to take my athleisure game to the next level.
Also, this 365 Large Landon Neoprene Carryall Duffel Bag is super versatile and incredible! For a smaller bag, I'm really digging this Everywhere Belt Bag, aka the modern fanny pack! I am really hoping to see this make a comeback for good. A little Bumble and Bumble Pret a Powder Shampoo (aka Dry Shampoo) would be a great stocking stuffer to include.
Not confident in selecting something so specific?  Make sure to check out Fit Atelier for their amazing selections and incredible customer service. Based in Charlotte and owned by two sisters, this is an easy one-stop shop for all your stylish + fit loved ones. And if you're a Charlottean, check out their latest limited edition sweatshirts for your favorite runner, yogi or gym go-er – or get yourself a gift. Why not?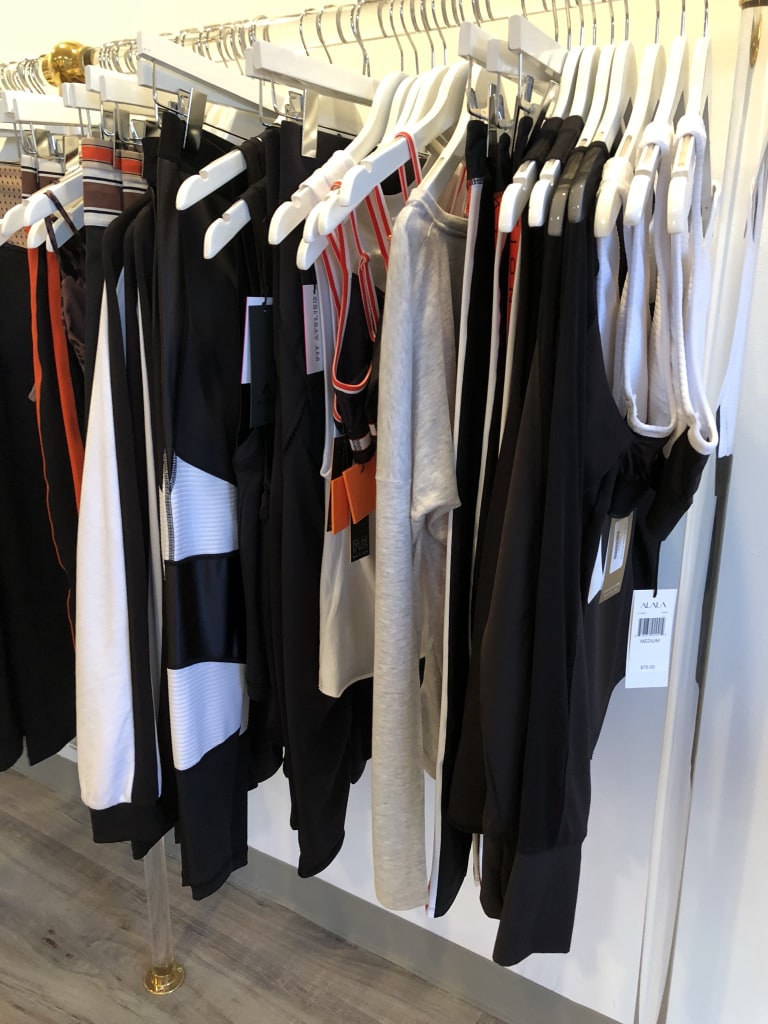 I can't leave out my beloved Golden Goose Sneaks – totally worth the investment, and they get better with age. My favorite style is the "Slide" but you really cannot go wrong.
And for my outdoorsy gals, The North Face Venture 2 Rain Jacket is a classic…and with vented arm pits! Now we're talking. And these Sorel Boots are fab as well.
Now for the men…
This Stuart & Lau Regimen Gym Bag is a great all-around bag. Travel or gym, it's classic and another great, long-term investment.
I really love these Air Jordan XI Concords, however….they just went on sale December 8th so we might be out of luck on tracking some down.
For workout shorts, I like these Black Sheep Champion French Terry Shorts and 704 Shop Varsity Athletic Shorts. Both companies are based on Charlotte, but you can shop with them online! I've never received anything but amazing customer service with either one.
For the outdoorsy, you can't go wrong with Danner Hiking Boots or a pair of Hestra Gloves.

For the Yogis
You can never go wrong with a new yoga mat. I recommend Manduka PRO Yoga Mat for durability and long-term investment. Also, La Vie Boheme Yoga Mats are gorgeous and great quality.
For the hot yogis, a new yogitoes Yoga Mat Towel is always a good idea!
A Yoga Strap, Lavender Organic Mat Cleaner, and/or a subscription to Yoga Journal would make excellent stocking stuffers.
And for the beginners/aspiring yogis who really want to get a solid foundation in their practice, Private Yoga Lessons are perfect.

For your fitness fanatics…
For starters, why not give the gift that keeps on giving? With a SweatNET membership, you can access tons of different workouts at various gyms, studios, you name it, etc. to get your cross-training on and have fun, too! Help your loved one(s) get outside their comfort zone a bit and discover the fitness they've been missing. Head over to SweatNET now and use promo code EFALLS to receive your first month for $1.95!
Also, just because I love cut-off tees, SweatNET has great ones that are half-off for SweatNET members. I love this white tank!
What about a Black Diamond Iota Headlamp for those early morning or late night runs? Also, some new Skullcandy INK'D Bluetooth Wireless Earbuds and/or a Spotify Premium subscription would be great.
If you haven't seen this cookbook, Run Fast. Cook Fast. Eat Slow., definitely pick up a copy for your runner.
For the hardcore, a Weighted Vest would likely be unexpected and a TriggerPoint Grid Foam Roller for recovery after a workout or run.
Hydration is important, especially in the winter months when we cannot sense our thirst as easily. I recommend this Corkcicle Canteen (25 ounce) or Stemless Wine Glass (12 ounce) depending on the activity. I take my Stemless Wine Glass to hot yoga all the time because it's easy to pick up in the middle of class to grab a quick sip. I'd also throw in some Ultima Replenisher Hydrating Electrolyte Powder as well because we lose electrolytes when we sweat and need to replenish those. Plain old water just doesn't cut it sometimes!
Bombas Socks are always a great gift, and inexpensive. I love how they feel – you really can't beat them.
And an Apple Watch would be a great gift for anyone!

For the super active but very busy…
What about a WaterRower Classic Rowing Machine or Peloton Bike or even Just Dance 2018 for PlayStation 4?

For the Chefs + Kitchen Experts
A Ninja Nutri Pro Personal Blender and a S'well Stainless Steel Traveler Mug would be a perfect pair for making and transporting smoothies to work. Also, these Air Fryers look super cool.
A Kombucha Brewing Kit makes for a fun gift for the more experimental type, and you can never go wrong with some fun cookbooks. A few of my favorites include: The Dude Diet Cookbook  and Thug Kitchen.
WellnessMats are crucial for those who stand up for longer periods of time in the kitchen doing meal prep and cleanup. Lower back and legs start to ache, so the investment is totally worth it!
For a more experiential gift, cooking classes are amazing. If you're in the Charlotte area, check out Chef Alyssa or Salud Cooking School. And for the little ones, Flour Power is amazing!
You can never go wrong with a gift from their favorite healthy pit stop. My favorites in Charlotte include Green Brothers Juice Co and Updog Kombucha.
Green Brothers Juice Co' frozen smoothie bags make great gifts, and they also just started a gift card sale – buy a $50 gift card, and receive another $10 gift card for free!
MicroFarm Raised Garden Beds also makes for a great gift whether your chosen giftee has a green thumb or not. Growing your own food is super gratifying, and it would be a great family gift as well as an educational piece for the kiddos!
For de-stressing…
I read Journey to the Heart Daily Meditations Book every night. Short reads, meaningful takeaways, it's a great way to start the day or wrap up an evening. Also, this Passion Planner is super cool and would be great for someone who likes to stay organized but also has a lot they're juggling.
A Calm App Subscription would be a great gift for anyone. Who doesn't need a little more calm in their lives?
Also, winter is a great time to get someone a Portable Light Therapy Energy Lamp.  Vitamin D deficiency is legit, and it affects our energy levels. These are shown to really improve energy levels and mood.
For peaceful sleep or relaxation, I think a combination of a Lavender Eye Pillow and a Marpac Whish White Noise Sound Machine would be amazing. Also, this Meditation Pillow and Baja Mexican Yoga Blanket look super comfy.
This Kammok Roo Double Hammock is delightful and makes relaxing anywhere feel adventurous.
And we all need a little TLC, am I right? This Overnight Foot Care Kit or De-Puffing Jade Facial Roller are perfect, inexpensive self-pampering gifts.
For the adventurous…
GoPro to document adventures and a Thousand Bicycle Helmet to keep your loved one safe.
A Stand-up Paddleboard would be a great gift for someone who loves the water.  For less of an investment maybe just an annual parking pass to the whitewater center and a day pass to SUP or enjoy any of the other several activities available.
The Campout Cookbook is great for anyone who loves the great outdoors. And some Aespop Resurrection Rinse-Free Handwash is clutch when options are limited.
And there you have it! Wishing everyone a happy, healthy holiday season!!