Paleo Pumpkin Granola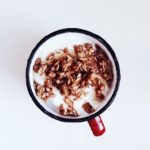 This grain-free granola makes for the perfect quick breakfast or snack for you and your kiddos!
1/2 cup coconut chips (unsweetened, wide strands)
1/2 cup pecans (raw)
1/2 cup walnuts (raw)
1/4 cup raisins
2 tbsp collagen peptides (optional)
1 tbsp hemp seeds
2 tsp pumpkin pie spice
1 tsp vanilla extract
1 tsp sea salt
1 tbsp honey
1 whole egg white
Preheat oven to 300*F. Line a baking sheet with parchment paper.

In a large bowl, combine coconut chips, pecans, walnuts, raisins, collagen peptides (optional), hemp seeds, pumpkin pie spice and salt. Toss with your hands or spoon until mixed well.

In a small bowl, whisk together the egg white and honey. Pour into the large bowl and toss well until everything is coated with the egg white and honey mixture.

Dump mixture out onto the baking sheet and spread it about. It is okay if some areas are clumpy.

Bake for 6 minutes then stir and rotate the baking sheet. Bake for an additional 4-6 minutes. Keep an eye on the baking tray for the last few minutes!

Remove when everything is golden brown. Let cool and store in an air tight container!