Paleo Sloppy Joes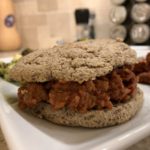 A paleo friendly version of your childhood favorite, the sloppy joe!
Paleo Buns
2 cups almond flour
1/2 cup tapioca flour (can substitute arrowroot flour)
1/2 tsp sea salt
1/2 tsp baking soda
1/2 tsp baking powder
1 tsp apple cider vinegar
3 whole eggs
1 tbsp honey
2 tbsp coconut oil (melted)
Sloppy Joe Meat
1 lbs ground beef (can substitute ground turkey)
2 tbsp ketchup (for strict paleo, use Primal Kitchen ketchup)
2 tbsp yellow mustard
1 tbsp coconut aminos
6 oz tomato paste
1 tsp salt
1 tsp pepper
1 tsp garlic (minced)
1 tsp oregano
1 whole onion (minced)
1 tbsp avocado oil (can substitute coconut or olive oil)
Paleo Buns
Preheat oven to 350*F.

Combine almond flour, tapioca flour, salt, baking soda, baking powder in large bowl. Mix well.

In a separate bowl, whisk together eggs, apple cider vinegar, and honey.

Pour wet ingredients into dry ingredients and then stir in 1 tbsp melted coconut oil.

Using greased hands, form dough into four balls and place on a greased cookie sheet.

Lightly brush each bun with the remaining melted coconut oil.

Bake for 12-15 minutes.

Allow buns to cool before cutting.
Sloppy Joe Meat
In a large skillet, add avocado oil and minced onion.

After about 3-4 minutes, add in ground beef, ketchup, mustard, coconut aminos, tomato paste, and seasonings and cook meat until brown.

Let simmer on low for 5 minutes.

Enjoy with your paleo buns!