Peanut Butter and Blueberry Overnight Oats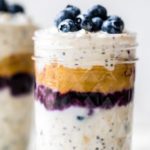 A quick and easy breakfast you can make the night before!
1 container low fat yogurt (try Siggi's Blueberry Skyr yogurt)
1 1/4 cup unsweetened vanilla almond milk
1 tbsp chia seeds
1 cup rolled oats (gluten free if desired)
1/3 cup blueberries (fresh)
2 tbsp blueberry jam (low sugar)
2 tbsp peanut butter (or your favorite nut butter)
Combine yogurt and almond milk in a medium bowl.

Stir in chia seeds, oats, and blueberries.

Cover bowl and place in the fridge overnight, or at least 3 hours.

To assemble, fill two 12-ounce mason jars halfway with oat mixture.

Add blueberry jam and peanut butter and top with remaining oats.

Cover jars and place in the fridge for later or enjoy immediately!
Photo from: https://www.ambitiouskitchen.com/peanut-butter-blueberry-overnight-oats/