Pineapple Pulled Pork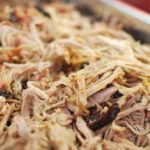 This paleo friendly dish is easy to make in bulk and use for meal prep or consecutive dinners!
3 lbs pork shoulder (bone-in or boneless)
3 tsp salt
1 tbsp ghee
20 oz pineapple (crushed, canned)
1 cup water
1 tsp paprika
Place pork shoulder, pineapple and water in your Crock Pot or Instant Pot.

For Instant Pot, cook on manual (high) for 90 minutes. For Crock Pot, cook for 6-8 hours on low.

Once the meat has finished cooking, shred it. Add paprika and salt to the meat.

Enjoy!