Most of you know that I basically sweat for a living. When I'm not wearing active wear to a workout, I'm wearing it to meetings, around the house, running errands, etc…I pretty much live in leggings, tanks and sports bras (not complaining about that).
One thing I've never understood is why, no matter how many times I wash my workout gear, I can't seem to get the smell out. When you spend $100+ on a pair of leggings, the LAST thing you want to do is get rid of them because they smell.
A month or so ago, one of my IG friends who is now my real life friend (hi Shannon!) told me about Rockin' Green detergent and she brought me a bag to try for myself after one of our workouts. She told me I could use it as a regular detergent, but recommended I try a crazy experiment and let my clothes soak in the tub with the detergent. Naturally, I had to run right home and try it.
So, I filled up the tub with warm water, added 2 scoops of the detergent, threw in my clothes and set the timer for 60 minutes.
Below is the photo of my tub before adding my clothing: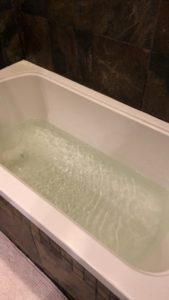 Being the curious individual that I am, (before my clothes were even done soaking) I was doubting this stuff actually worked so I went to instagram to do some digging.
I looked up the Rockin Green instagram (@rockingreensoap) and started scrolling through tagged photos when I stumbled upon the hashtag #activewearchallenge. PAUSE — photo after photo of presumably CLEAN active wear soaking in brown bath water… what!?
I came back 60 minutes later, took my clothes out and transferred them to the washing machine to run on a normal cycle without any soap or detergent, as the instructions suggest.
Below is the photo of my tub immediately after taking out the clothes: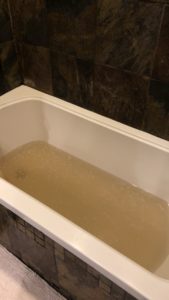 DISGUSTING, right?! Even more disgusting (maybe TMI) but I took a sniff of the water and it smelled awful.
Of course, after my clothes were done washing and drying, I had to give them a good sniff test. I have this one t-shirt in particular (damn you Nike dry fit) that I have washed time and time again and no matter what, it still smelled. Believe it or not, I took one sniff of it and was shocked that it actually didn't smell bad…it just smelled neutral, LIFE CHANGING.
To say Rockin' Green works would be an understatement. I now use the detergent as a soak but also when regular washing. It's fragrance free, there are no dyes, paragons, SLS or SLES. The soap is great for sensitive skin (like mine), biodegradable and cruelty free.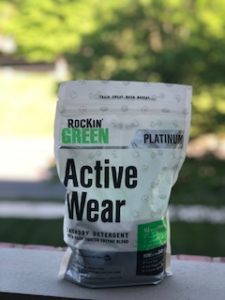 Next time you're on the gram, check out the #activewearchallenge and if you try it for yourself, tag me!
If you are interested in purchasing the detergent, head to the Rockin' Green website! Fun fact: SweatNET members get $5 off their purchase of Rockin Green soap. Not a member? Click here to sign up and head to the SweatNET Charlotte app to redeem.