Salmon Cake Salad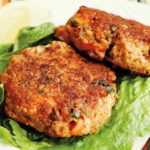 2 whole 6oz. cans wild salmon (liquid drained off)
1/4 cup sweet potato or butternut squash puree (canned or fresh)
2 whole eggs
1/4 cup chopped scallions
2 tsp Trader Joe's coconut aminos
1 tsp Dijon mustard
1 pinch salt and pepper
2 tbsp ghee
1 whole lemon
1 bag mixed greens (or lettuce of choice for salad base)
Line a baking sheet with parchment paper and preheat the oven to 350.
In a bowl, combine all ingredients with a fork. Form into 6-7 patties on the baking sheet.
Bake patties until firm, about 30 minutes.
If making these ahead, let the baked salmon cakes cool completely and store in an airtight container in the fridge for up to a few days. The salmon cakes can be browned immediately after baking or after being made ahead and stored in the fridge.
When ready to serve, heat the oil in a skillet over medium heat. Cook the salmon cakes in batches until browned and hot, a couple minutes per side.
Plate on a bed of lettuce and squeeze fresh lemon over top for dressing. Enjoy!