Savory Breakfast Oats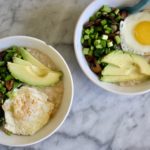 1/2 cup oats
4 oz ground turkey
1 handful spinach/kale/spring mix greens
1/4 cup water
Balsamic vinegar (to taste)
Garlic salt (to taste)
Pepper (to taste)
Brown ground turkey in a pan on low-medium heat.
Once turkey is halfway cooked, drizzle balsamic vinegar over turkey and add in oats and water.
Continue to cook until the oats and turkey are cooked through. Mixture should be thick and stick together.
At this point, add in greens, drizzle once more with balsamic vinegar and season to taste.
Once ingredients are mixed together remove from heat and serve warm or pack in to go containers for the following day.