Savory Breakfast Sweet Potatoes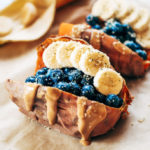 2 whole sweet potatoes
1/2 cup blueberries
1 whole banana
1 tbsp nut butter
1 tbsp maple syrup
1/2 cup granola
1 tbsp chia seeds
Pre-heat the oven to 400 degrees F.
Bake the sweet potatoes directly on the rack for 40-50 minutes. They're done once a fork can easily be pierced into the center of the potato and the inside is tender.
Cut a slit down the center of the sweet potato about 2/3 of the way down. Slightly mush the inside of the potato.
Split the fruit, nut butter and granola between the 2 sweet potatoes. Mix and match any combination of toppings to taste.
*Sweet potatoes can be baked the night before to save on prep time and make for a quick and easy breakfast!
[nutrition-label]