Shrimp and Pesto Zoodles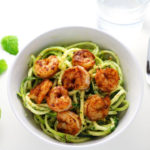 3 clove garlic
1/3 cup pine nuts
2 cups fresh basil leaves
1/2 cup extra virgin olive oil
1/2 cup grated Parmesan cheese (or vegan parm cheese)
4 cups zoodles (about 2-3 medium zucchini spiralized, zucchini noodles)
1 pound shrimp (deveined, boiled, peeled, chilled)
Add the first five ingredients to a food processor. Pulse until combined to make a homemade pesto.
Add the olive oil to a skillet over medium high heat. Season the shrimp with salt and pepper. Cook for 1-2 minutes per side until pink and opaque. Remove and set aside. You can add more flavor to the shrimp here if desired with garlic powder, paprika, Italian seasoning, grill seasoning, or any other of your favorite spice blends.
Add the zucchini noodles to the pan and cook for 3-4 minutes
Add ½ cup of pesto to the zoodles then add the shrimp back to the pan when pesto is warm.
Serve and enjoy!