Slow Cooker Herbed Chicken and Rice Pilaf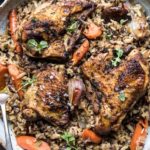 Chicken and rice: so easy, yet so filling and healthy!
1 1/2 cups wild rice (mix wild rice and brown rice)
3 cups chicken broth (low sodium)
1 lemon (juice squeezed out)
2 tsp dried parsley
1 carrot (cut into 1 inch pieces)
1 cup mushrooms (chopped)
2 lbs chicken thighs (bone in, may substitute chicken breasts)
2 tbsp olive oil
2 tbsp thyme (fresh)
1 tbsp sage (fresh, chopped)
pinch salt
pinch pepper
4 shallots (halved)
1 sprig rosemary (fresh)
Combine wild rice, chicken broth, lemon juice, parsley, carrots, and mushrooms in the slow cooker bowl.

Season with salt and pepper and mix to combine,

Rub the chicken with 1 tablespoon olive oil, thyme, sage, and a pinch of salt and pepper.

Heat the remaining 1 tablespoon of olive oil in a large skillet over meidum-high heat.

When the oil shimmers, add the chicken and sear until golden brown on both sides, about 5 minutes per side.

Toss in the shallots and cook another 1-2 minutes. Remove the chicken and shallots from the skillet and place directly into the slow cooker, skin side up, along with any juices left in the skillet.

Add the rosemary.

Cover the slow cooker and cook on low for 5-6 hours or on high for 3-4 hours.

If the rice is hard, add an additional 1/2 cup of chicken broth and cook for another 30 minutes on high.
Photo from: https://www.halfbakedharvest.com/slow-cooker-herbed-chicken-and-rice-pilaf/