Slow Cooker Stuffed Peppers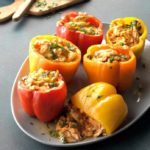 5 Pepper (s any color tops sliced off and seeds removed (dice tops minus stem for filling))
1 lb Chicken Breast (shredded or cubed)
1 onion (large)
2 zucchini (quartered then sliced thin)
2 tbsp smoked paprika powder
2 tbsp cumin
1 tbsp red curry powder
1 tbsp turmeric
In a heavy pan (or cast iron), when chicken is nicely browned, add diced onions, zucchini and diced tops of peppers to mix.
Brown veggies and taste mix.
Add spices and mix well.
In a slow cooker, add peppers.
Pour enough water to cover 1″ of the slow cooker.
Carefully add meat and veggie mix to peppers.
Cook on high for 2 hours, until peppers are soft.
Serve warm.
Add cayenne pepper and red pepper flakes to taste
[nutrition-label]