Southwestern Quinoa Salad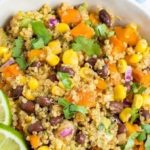 This salad bowl is so flavorful and perfect for meal prepping!
1 cup quinoa (rinsed)
1 large sweet potato (chopped into bite-size chunks)
1 large red bell pepper (or orange; cored, seeded, and diced)
1 cup black beans (rinsed)
1 cup corn
1/4 cup red onion (minced)
1/4 cup cilantro (minced)
1 medium avocado (chopped)
1/4 cup olive oil
1 lime (squeezed)
1 tsp chili powder
1/4 tsp cayenne
1 pinch cumin
Preheat oven to 400*F.

Toss sweet potato chunks with 1/2 teaspoon of olive oil, and season with salt and pepper to taste. Arrange evenly on a baking sheet.

Bake for 25-30 minutes or until tender. Allow potatoes to cool afterward.

Cook quinoa according to package instructions, and allow it to cool.

In a large mixing bowl combine quinoa, sweet potatoes, corn, bell pepper, black beans, onion, cilantro, and avocado.

Add 1/4 cup olive oil, lime juice, chili powder, cayenne, cumin, and salt and pepper.

Gently toss the salad to combine.

Serve immediately or store in the fridge for later.
Photos from: https://www.eatingbirdfood.com/southwestern-quinoa-salad/