Spaghetti Squash Buffalo Casserole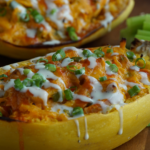 1 whole Spaghetti Squash
1/2 tbsp olive oil
1/2 tsp Sea Salt
1 lb Chicken Breast
1/2 cup Hot Sauce
6 tbsp Paleo-friendly Mayonnaise
1/4 cup Green Onion (sliced plus additional for topping)
1 whole egg whites
Preheat your oven to 400°F and line a baking sheet with tinfoil. Additionally, grease a casserole dish with a little bit of olive oil.
Cut the squash in half and scrape out the seeds. Rub the inside with the olive oil and sprinkle with salt and pepper.
Bake, cut-side down, until fork tender, about 30-40 minutes. Set aside to cool.
While the squash cools, bring a large pot of salted water to a boil. Once boiling, cook the chicken breast until no longer pink inside, about 15-20 minutes. Drain and set aside to cool.
Scrape the strands out of the cooled spaghetti squash and spread them out in one even layer on a piece of paper towel. Use another layer of paper towel to press out as much moisture as you can. Then, repeat with another paper towel.
Once this is done, you should have about 3 lightly packed cups of spaghetti squash (or about 480g) Place into a large bowl.
Shred the chicken breasts (you should end up with about 3 packed cups of shredded chicken or 300g) and add it into the bowl with the squash.
Add all the remaining ingredients and stir until well combined.
Transfer into the prepared casserole dish, pressing out flat. Bake at 400 degrees, uncovered, until the edges are golden brown, and the top feels set, about 30 minutes.
Turn the oven to high broil and broil for 5 minutes. Then, let stand for 5 minutes to cool.
Garnish with extra onions and enjoy!