Looking for a healthier, low carb version of your beloved pad thai?! We've got you covered!
Spaghetti Squash Pad Thai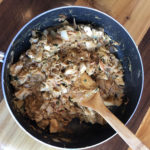 1 Spaghetti Squash
2 tsp olive oil
1 lbs boneless chicken breast
1 tbsp sesame seeds
2 egg
1 onion (diced)
1 cup carrots (shreadded)
1/4 cup cilantro (chopped)
Sauce
2 tbsp red wine vinegar
2 tbsp coconut aminos
2 tbsp Hot Sauce
2 tbsp peanut butter
Preheat oven to 420* F
Cut spaghetti squash in half, lengthwise. Scoop out seeds. Rub cavities with olive oil. Place cut sides face down on a making sheet. Roast for 35-40 minutes or until the skin is easily pierced with a fork. Scrape the flesh from the insides of the squash, place in a bowl and reserve.
While spaghetti squash is roasting: cut chicken into bite sized pieces. Heat wok or skillet over medium heat. Drizzle olive oil across the bottom of the pan. Add chicken, sesame seeds and salt and pepper to taste. Stir frequently. Once chicken is slightly brown (4-5 minutes), remove from heat and reserve.
Using the wok or skillet, add onion and carrots and cook for 4-5 minutes or until onions are translucent. Making a well in the center of the carrots and onions, crack two eggs, scramble.
Mix together all sauce ingredients in a separate bowl.
Return chicken to wok or skillet and with the flesh of the spaghetti squash. Add sauce and cilantro. Stir and let simmer for 2-3 minutes.
ENJOY!