Spicy Peanut Spaghetti Squash Ramen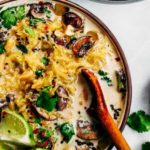 A Whole30 and vegan ramen made with spaghetti squash noodles!
1 large spaghetti squash (cooked and shredded, see notes)
8 oz crimini mushrooms (sliced)
2-3 tsp olive oil
1/2 cup cilantro
1/4 cup peanuts (or cashews, chopped)
2 limes (cut into wedges)
black sesame seeds (to taste)
red pepper flakes (to taste)
4 cups vegetable broth (chicken broth)
chili oil (optional, for added heat)
Broth
1 can coconut milk (full-fat, canned)
1/2 cup peanut butter (or cashew/almond butter for paleo/whole30)
2 tbsp coconut amino
2 tbsp dates (pitted)
1 tsp green curry paste
1 tsp ground ginger
3 cloves garlic
In a frying pan, add sliced mushrooms and a drizzle of olive oil. Saute until golden, stirring on occasion. Then set aside.

In a blender or food processor, puree ingredients for the broth until smooth. Then combine with vegetable broth in a saucepan and heat on the stove over medium heat until simmering.

Add spaghetti squash noodles and sauteed mushrooms to the saucepan and heat until it reaches the desired tempeture.

Remove from heat and top with fresh lime juice, sesame seeds, cilantro, chopped peanuts, red pepper flakes and optional chili oil to taste. Enjoy!
How to bake spaghetti squash:
Cut spaghetti squash in half lengthwise
Use a large spoon to scrape the seeds from the center
Lay face up on baking tray and brush lightly with olive oil
Bake on 450*F for 25 minutes
Then scrape "noodles" from the squash using a fork
Photo from: https://paleoglutenfree.com/recipes/spicy-peanut-spaghetti-squash-ramen/