Spicy Salmon, Sweet Potato, Kale Skillet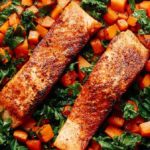 Seasoned and crispy salmon with healthy veggies for lunch or dinner!
For the salmon:
1/2 tsp paprika
1/2 tsp garlic powder
1 tsp Italian seasoning
pinch salt
pinch pepper
2 medium salmon filet
1 tbsp olive oil
For the sweet potato kale skillet:
1 tbsp olive oil
1 cup red onion (chopped)
1 tsp garlic clove (minced)
2 cups sweet potato (diced)
pinch salt
pinch pepper
pinch red chili flakes
3 cups kale (trimmed, coarsely chopped)
Pat each salmon filet with a paper towel to dry.

In a small bowl, add paprika, garlic powder, Italian seasoning, salt, and freshly ground black pepper. Mix well to combine.

Season the salmon filets and set aside.

In a cast-iron skillet, add 1 tablespoon of olive oil over medium heat and let the pan heat for a few minutes.

Add the salmon skin-side down and cook for about 6-8 minutes.

Flip filets and cook for about 2 minutes.

Remove salmon from pan and transfer to a paper towel-lined plate.

In the same skillet over medium-high heat, add a tablespoon of olive oil.

Then add onions and cook until soft and golden.

Add garlic and cook for about 30 seconds, or until fragrant.

Add sweet potato and 1/4 cup of water to help cook faster. Cover skillet with a lid and cook for about 2 minutes.

Add kale, salt, pepper, and chili flakes to skillet and mix well. Cook until kale is wilted.

Return salmon to pan and enjoy!
Photo from: https://www.primaverakitchen.com/spicy-salmon-sweet-potato-skillet/