Spinach Avocado Chicken Burgers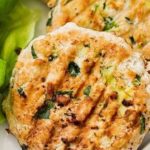 These burgers are Whole 30, Paleo, and AIP friendly while still being super flavorful!
Chicken Burgers
1 lb ground chicken
1/2 cup spinach (finely chopped)
2 tbsp cilantro (finely chopped)
2 tbsp coconut flour
1 tbsp avocado oil
2 tbsp garlic powder
2 tsp onion powder
1 tsp sea salt
1/2 tsp black pepper
2 tbsp lime juice
1 small avocado (diced )
Avocado Mayo
2 medium avocados
4 tbsp avocado oil
2 tbsp lime juice
1/4 tsp sea salt
1/8 tsp black pepper
Chicken Burgers
Prepare either a grill or grill pan and set to high heat. Add avocado oil to the grill pan.

Mix the ground chicken with the seasonings, spinach, coconut flour, lime juice, and avocado oil.

Gently fold in avocado chunks, being careful not to smash them.

Form the chicken into 4-5 burgers.

Grill burgers for about 5 minutes on each side, or until internal temperature reaches 165*F.
Avocado Mayo
Combine ingredients in a high-speed blender until smooth.
Assembly
Feel free to use butter lettuce instead of buns with these chicken burgers!

You can also cut up the burger to add to a salad!
Photos from: https://unboundwellness.com/spinach-avocado-chicken-burgers/