Everyone I know has been to a salt room except me, and I'm a lil' bit salty about it. Sure I get a fair dose of salt in my life: a sprinkle on my eggs, a pinch on my tomatoes, a handful on pretty much everything else… . (I'm totally bound to have high blood pressure.) But apparently society thinks you can't get enough of it. Hence the latest detox trend: napping in a room filled with this Himalayan goodness.
Salt therapy, also known as halotherapy, is the latest craze in the wellness world, and us Charlotteans are lucky enough to have a salt cave of our own: The Salt Pad. So a couple weeks ago, I decided to swing by to see what the hype is all about.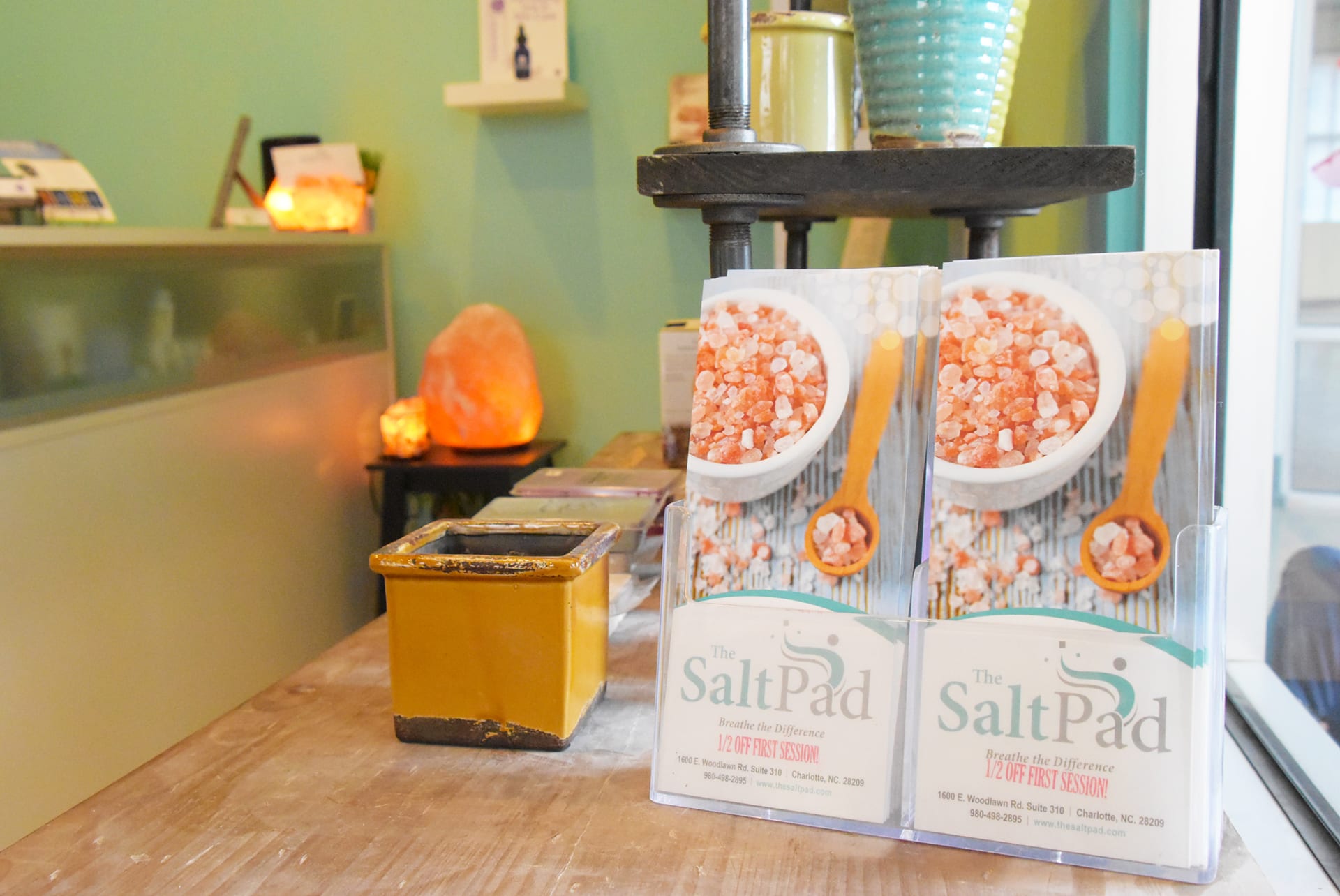 When I walked into the posh studio on Park Road, I was greeted by the super-friendly owner, Garrett. Right away, he asked me to fill out a new client waiver, and while I checked off all of the usual "no, I don't have a contagious disease" and "no, I don't have a family history of contagious diseases", an older lady came out of the salt room and seriously wouldn't stop raving about how incredible she felt. (For a millisecond I questioned if Garrett hired paid actors, but then just gave him the benefit of the doubt that he really must have something great goin'. )
After I handed my waiver back to Garrett, he walked me over to a set of lockers where I would keep my purse, shoes, and cellphone. (That's right, no electronics allowed ). Equipped with only my socks and my curiosity, he led me into the colorful salt room, where two other guests were already lounging. I tiptoed across the pit of pink Himalayan salt and settled into one of the heavenly reclining chairs. Garrett briefly introduced himself to us and gave us a quick spiel about the benefits of salt (…other than it pairs well with watermelon). Then he politely excused himself and wished us a peaceful 45 min nap.
NAP!? Wait what? I don't nap. I can't nap. The last time I napped was in 1997 after a rough day at adventure camp. So while my peers melted into their chairs and drifted off into a deep trance, I sat there wondering what the heck I was going to do for the next 45 minutes. I twiddled my thumbs and thought every thought imaginable, like: how much did it cost to bring all this salt in? How yummy would this salt taste on that omelette I made this morning? How awesome would this be if I had my laptop to churn out some emails? (I'm pathetic, I know). Then I counted every grain of salt in the room. And once I was bored of that, I nosily stared at my neighbors: one was silently praying and the other was loudly snoring. After I realized how creepy I was being, I finally closed my eyes, took a deep breath of the salty air, and let the mystic spa music serenade me. Then after what seemed like only moments later, Garrett came back into the room to end our session and I realized I had just fallen into a sweet slumber.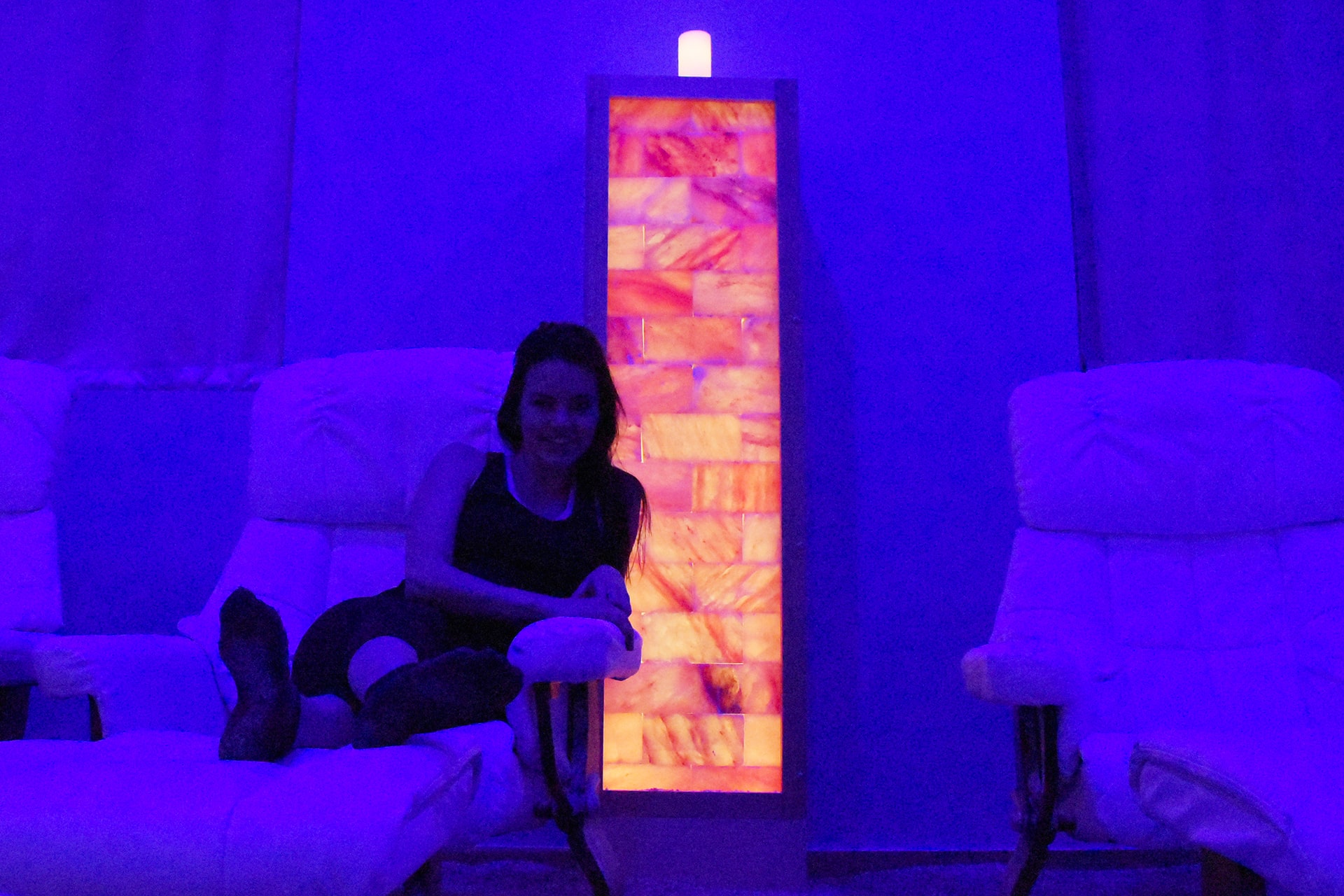 Besides feeling like I just caught up on three night's rest, I noticed that another tiny miracle had just taken place: I walked into the room with an agonizingly achy sore throat and I walked out with a mildly achy sore throat! 45 minutes of nap time in exchange for cured cold? Is this too good to be true?
Well turns out my positive results weren't just some sort of placebo effect, because Himalayan salt happens to be one of nature's strongest healers. The salt used in halotherapy is naturally anti-inflammatory, antibacterial, antiviral, anti-fungal, and antimicrobial. Meaning, it does a killer job of reducing inflammation in our respiratory systems and strengthening our immune systems. That's why it's ideal for anyone who struggles with allergies, asthma, sinusitis, eczema, or psoriasis.
Not to mention the main reason I came here: it's a secret weapon for athletes. According to Garrett, "It detoxifies and reduces inflammation in the lungs and sinuses, and naturally thins mucous buildup. This improves respiration by allowing more oxygen to easily enter the blood stream, giving athletes better stamina."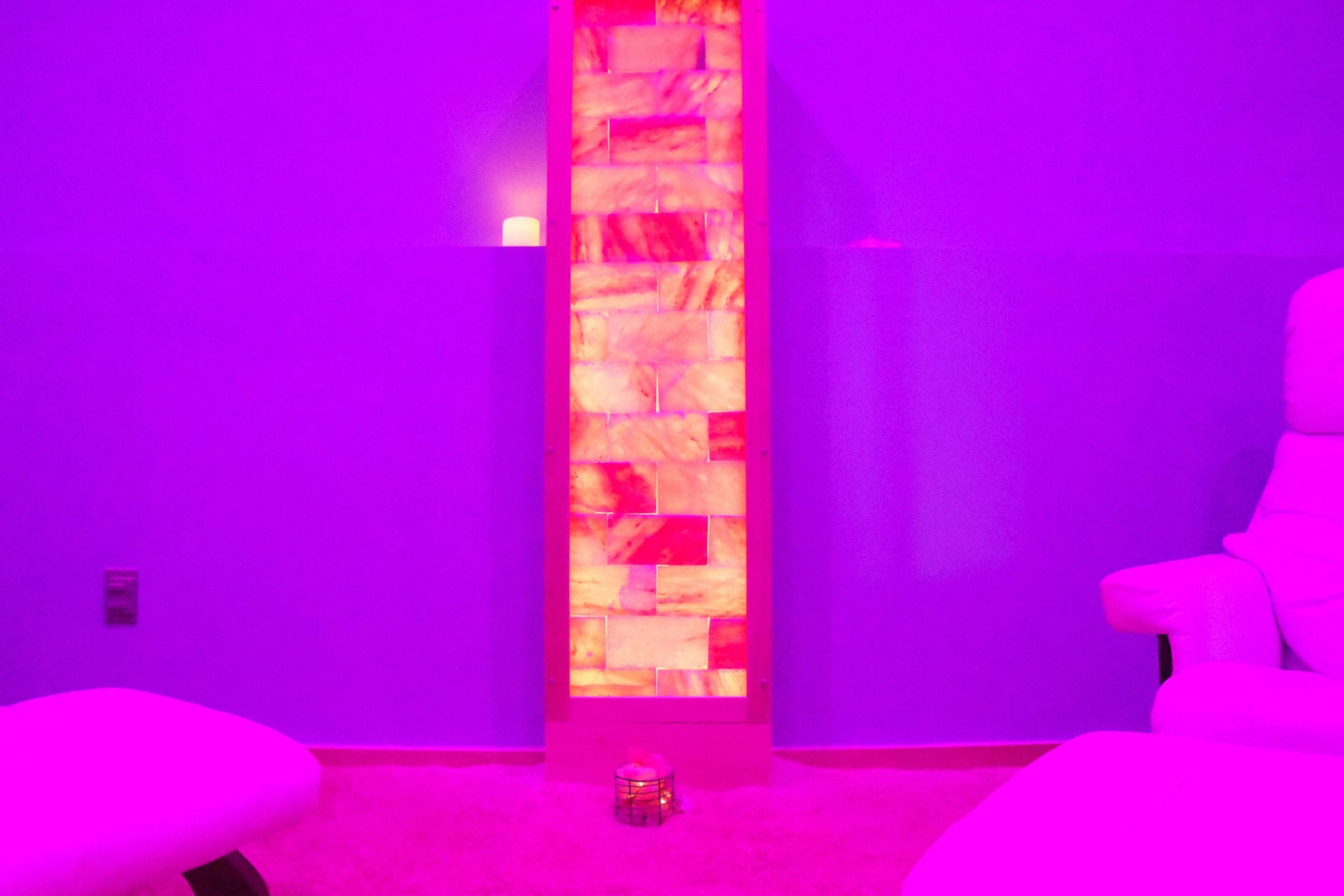 Then I got acupuncture for the first time too.
The Salt Pad also offers acupuncture, which is a safe and effective way to heal the aches and pains that come with being an athlete. So immediately after my salt room nap, Garrett treated me to a nice little session of human pin cushion, where he targeted my aching lower back, hips, and ankles.
I never had acupuncture before so I wasn't quite sure what I just agreed to. First, I laid face-down on the massage table, then Garrett began sticking super fine needles into my trouble spots. I honestly felt nothing more than a slight tingle when he put them in, which was totally opposite of the grueling pain I expected. Then once all of the needles were in place, Garrett dimmed the lights and left the room for 25 minutes.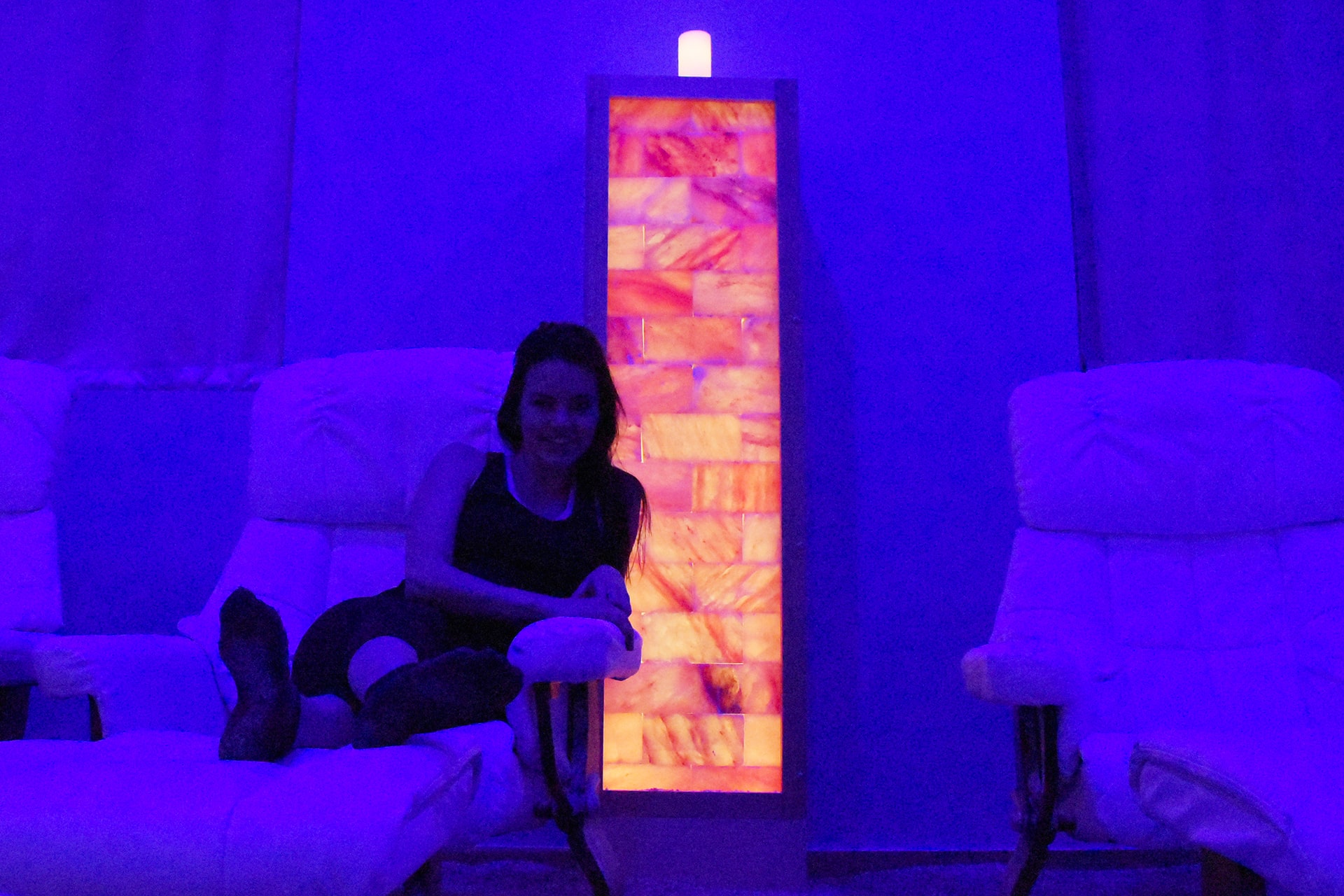 Since ya'll now know how bad I am at doing nothing, it should come as no surprise that I immediately tried to wiggle around and check out my new cactus back as soon as he shut the door. Bad move. Because just as I lifted my right arm to feel my porcupines, a sharp pain jolted up my back. I froze in fear for what I had just done, then slowly eased my way back into my starting position.
For the remainder of the session, I didn't even lift a finger. When Garrett finally came back in and removed the needles, I hastily squirmed around to make sure all my limbs were in working order. And then he finished the session with some bodywork, which is essentially a tough-love massage.
As if I needed my salt obsession to get any worse, now it's reached new heights. I've bought an at-home salt lamp, I've doubled my sodium intake, and I'm going to make it a point to get a Salt Pad sesh in at least a few times a month.
For those of you who are also ready to take your wellness game up to the next level, the Salt Pad offers exclusive rates for SweatNET members!