Classes Offered
Primal
Cardio Dance
Yoga
Skill Level
Beginner to advanced; All Levels
Class Size
30-60 People
Duration
45- 60 Minutes
Equipment Needed / Attire
A water bottle and comfortable workout clothes you can sweat in.
Introduction
Bringing you a balanced approach to sustainable fitness and life enhancement through primal, cardio, and yoga this unique studio located in Cornelius, NC is a great way to have fun and be part of the community.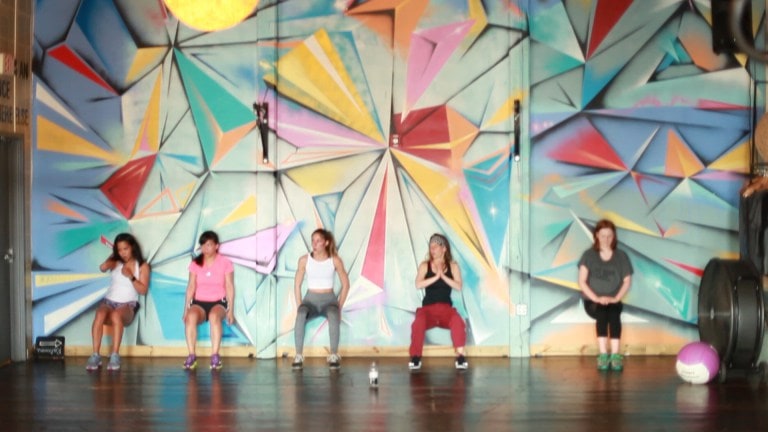 On First Glance
Located in the left corner of a shopping center, parking is no problem. With decorative lights, murals on the walls and ceilings, it doesn't get much more creative and inventive than Kadi Fit. With the check-in desk as soon as you walk in and lockers and cubbies in the main workout studio room, there is plenty of room to store your personal belonging in safely. Bathrooms are in the right corner of the mirrors located with the yoga mats, towels, etc. They have an amazing bar located in the back room that contains a selection of UpDog Kombucha, craft beer, wine and water.
The Workout
Dance cardio is a workout like no other. It's an intense cardio, hip-hop workout that is a full body and ab workout in one. With high beat and current music, it definitely gets your adrenaline running. It's a class of up to sixty people where Katie the owner and instructor helps you to let go of fear of judgment from yourself and feel confident.
Primal is made up of various boxing combinations, jump rope and intense drills to maximize speed, agility, and strength. With high beat music the instructors at Kadi Fit help you push you past the limits that you thought you had. Encouraging you and working out along side forty-five friends, including the instructor, helping you, Kadi Fit creates a really comfortable environment which makes you feel like you're working out with your pals.
Yoga flow is a fast paced, fitness approach to get a good sweat while increasing flexibility. 

The Community/Instructors
The instructors at Kadi are energizing, supportive, hip, and inspiring. A big part of the studio is they talk about setting an intention before the workout and at the end a reflection. They communicate in a way which is helpful and loving. Especially Katie Dixon, on her Instagram (@Kadikatie) stories she gives a lot of helpful advice. She not only is a body pro in the workout but mindset pro as well. She has given advice on things such as your vision, how to stand out, and passion and many other things that everyone can benefit from. A lot of the advice she provides on her social media she and her instructors incorporate into their workouts everyday.

If you're looking to get involved with an enjoyable and encouraging fitness community Kadi Fit is the place to be. They provide great amenities such as their open workout spaces and refreshing bar. They provide a array of unique workout experiences that engage your entire body. Katie and the instructors are great motivators, friends, and influencers. They are there for you for during the highs and lows of your workouts, helping you maximize your potential.
If you're looking to get inspired and change your life you can start by dropping in with your SweatNET membership for $10 (save $8)!