Stuffed Pepper Soup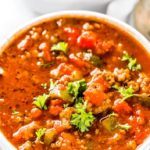 This soup is the perfect comfort food while being Whole30, Paleo, and Keto friendly, and Gluten-free!
1 lb extra-lean ground beef (may substitute ground turkey)
1 lb sausage
1 tbsp olive oil (may substitute avocado oil)
4 cloves garlic (minced)
1 cup onion (diced)
15 oz tomato sauce
28 oz tomatoes (diced)
3 tbsp tomato paste
3 green bell peppers (seeds removed and chopped)
4 cups beef broth (no sugar or salt added)
1/2 cup water
1 tsp basil (dried)
2 tsp oregano (dried)
1 tsp sea salt (more or less to taste)
1/2 tsp pepper
Heat olive oil in a 5 or 6-quart Dutch oven or large pot over medium heat.

Add onion and garlic and cook until translucent, about 2 minutes.

Add ground beef, or turkey, and sausage and cook until brown, about 4-5 minutes.

Add green peppers, broth, canned tomatoes (with liquid), tomato sauce, water, tomato paste, oregano, basil, salt, and pepper. Stir to combine.

Bring to a boil, then reduce heat and simmer for about 30 minutes until peppers are very tender.
Feel free to serve over cauliflower rice or a sweet potato to make this soup more filling! You can also freeze this soup for up to 3 months! If you would like to use a slow cooker instead, follow the same instrucions and cook on low for 6 to 8 hours. 
Photo from: https://healthylittlepeach.com/2019/10/04/savory-whole30-stuffed-pepper-soup/