Superfood Kale Salad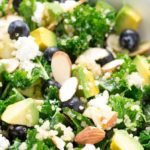 Quick salad for lunch or use as a side for dinner, either way, still delicious!
1 cup quinoa
6 cups kale (1 large bunch, tough stems removed and chopped)
15 oz chickpeas (rinsed and drained)
1 cup blueberries
4 oz goat cheese (crumbled)
1/2 cup sliced almonds
1 avocado (peeled, pitted, and chopped)
For the dressing:
1/4 cup extra virgin olive oil
1/4 cup lemon juice
2 tbsp honey
1.5 tsp dijon mustard
1/4 tsp salt
Rinse and drain the quinoa. Place quinoa and 2 cups water in a small saucepan and bring to a boil.

Cover, reduce heat to a low simmer and cook for about 15 minutes until water is absorbed.

Transfer quinoa to a large bowl to cool.

Meanwhile, make the dressing. Whisk all dressing ingredients in a large bowl.

Add kale, and toss with the dressing.

Once quinoa is cool, add it to bowl with the kale, along with chickpeas, blueberries, goat cheese, almonds, and avocado.

Toss gently to combine and season with salt and a bit of black pepper.
Feel free to add chicken or any other ingredients you like! Salad will last for 3 days in the refrigerator- add dressing, almonds and avocado right before serving!
Photo from: https://kristineskitchenblog.com/kale-superfood-salad-with-quinoa-and-blueberries/