Superfood Oatmeal Breakfast Bars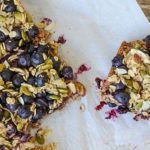 Easy breakfast bar to grab on the go and loaded with healthy ingredients!
Base:
2 cups old fashioned oats
1 cup almonds (slivered )
4 tbsp honey
1 tbsp coconut oil
1 tsp kosher salt
1 1/2 tsp cinnamon
2 bananas
1 1/2 tsp vanilla
1 scoop protein powder (vanilla whey)
Topping:
1/2 cup old fashioned oats
1/4 cup almonds (slivered )
1/4 cup pumpkin seeds
1 cup blueberries (fresh)
1/4 cup almond milk (may substitute coconut milk, or coconut-almond milk)
1/4 tsp cinnamon
Preheat oven to 350*F.

Line 9×9 baking pan with parchment paper and lightly grease with nonstick spray.

Add all ingredients for the base into a food processor until completely combined and wet.

Pour into prepared pan and smooth out with a spatula.

Bake for 8-10 minutes.

Combine topping ingredients in a medium bowl and stir to combine.

Remove pan from oven, and carefully spread topping evenly over the base.

Bake an additional 15 minutes.
Photo from: http://ahealthylifeforme.com/oatmeal-superfood-breakfast-bars/