We visited Yoga One recently for a Power Beats class with Tai Dorn. Check out our #SWEATDATE above!
Read our Studio Highlight on Yoga One below: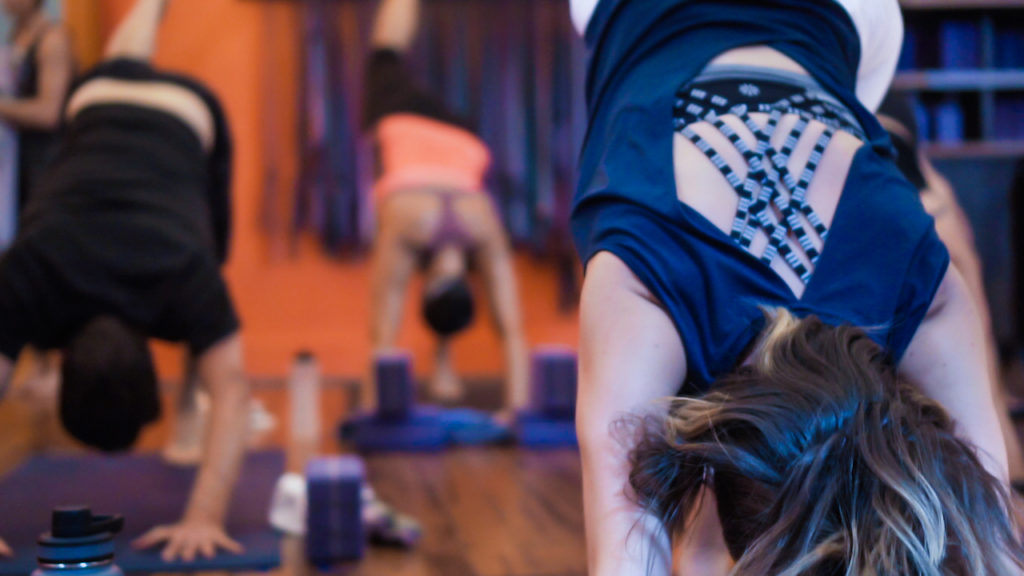 Classes Offered:
Power Fundamentals
Power Flow
Power Flow Beats
Power Express
Slow Flow
Slow Flow Beats
Deep Stretch
Mommy and Mini Class
Kids Yoga Class
Meditation
Skill Level:
Beginner to advanced; All Levels
Class Size:
Ranges from
10-12 people
60-70 people
Duration:
60 Minutes
Equipment Needed / Attire:
A water bottle, yoga mat and comfortable workout clothes you can sweat in
Introduction
Yoga One located on Central Ave (they also have a Dilworth location!) represents everything yoga is about, community, love, and tranquility. Their mission is to awaken, inspire, empower, and sweat, and they do it all in the name of love. For over ten years Yoga One has been partnering with the community to raise money, raise awareness, and raise their ability to contribute to a better world. Partnering with organizations such as Africa Yoga Project, Time Out Youth, Urban Ministry Center, and many others makes Yoga One that much more special. Their Karma Yoga classes and events they've hosted have raised hundreds of thousands of dollars for local programs and organizations.
On First Glance
Yoga One is located in the shopping center across the street from Peculiar Rabbit and the new Yafo Kitchen in Plaza Midwood. Parking is ample and the studio is easy to find, lit by a neon Yoga One sign in the window. The front desk staff welcomes you upon arrival and if you're new, they'll give you the grand tour of the space. Boasting everything from retail to refreshments, showers and two beautiful studios tucked inside the Central St. location makes it the perfect place to come find your flow. One of the only studios in Charlotte that is always heated, Yoga One serves as a place to practice, learn, and try new things.
The Workout
In the Deep Stretch class, it's heated up to 90-100 degrees and you're muscles are warm and begin to relax before the class even starts. A slower practice with fewer poses compared to the traditional Baptiste flow, the goal is that you're able to go deeper and release tension in your mind and body in a conscious and intuitive way. It's a great place to start exploring with the use of blocks, bolsters, straps and blankets as well as something that benefits beginners to advanced practitioners. The practice is a great reminder to let go of the outside world and focus on getting out of your comfort zone in your movements and mind.
The Community / Instructors
With a wide variety of experienced teachers, Yoga One offers a little something for everyone. Their community is warm, welcoming and inclusive. The team here goes above and beyond for members and drop-ins alike and when you're here you're treated like family by the teachers to the fellow students.
Conclusion
The community at Yoga One awakens, inspires, and empowers. If you want to sweat with a community that helps you live a healthy life and that raises money, raises awareness, and raises their ability to contribute to make this a better world, Yoga One is the place to be. Yoga One has highly qualified yoga teachers and a great collective. Before, during and after the physical practice, laughs are shared and minds are left at ease and that's what makes Yoga One stand out.
For all the yogis out there who want to get their yoga on make sure to check their schedule out here. IF you have any questions give them a ring at 704.332.9911 or you can email them at HOWDY@Y1NOW.COM.
Take their "Take 10 Challenge" by signing up for 31 days at Yoga One for $31 and taking at least 10 before the package expires.
Reg. Drop In: $18
SweatNET Drop In: $12