Sweet Potato Bacon Kale Hash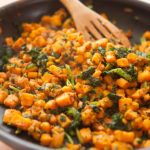 1/2 lbs bacon (loosely chopped)
Sea Salt (to taste)
paprika (to taste)
4 cups kale (roughly chopped)
4 eggs
Pepper (to taste)
1 small onion (chopped)
2 tbsp coconut oil (or ghee butter)
2 medium sweet potatoes (cubed)
Preheat oven to 400*F.

Heat 2 medium skillets- one over medium heat and one over medium-high heat (one skillet should be oven proof or you can always transfer to a roasting pan).

**To make sure everything cooks full, its better to cook bacon, potatoes, and kale separately at first.**

Add bacon to the medium-high skillet and melt ghee or coconut oil in the other pan for the sweet potatoes.

Add cubed sweet potatoes. Sprinkle with salt, pepper and allow to cook uncovered for about 2 minutes.

Stir potatoes again, then cover skillet and cook for about 6 minutes to soften.

After 4 minutes, uncover potatoes and let simmer on low until soft. Once done, remove from heat.

In the other skillet, brown the bacon until crisp and remove from heat.

Drain some of the bacon grease, leaving 1-2 tablespoons in the skillet. Turn the heat to medium.

Add onion to the pan, cooking until translucent.

Add kale to onions and sprinkle with just a bit of salt. Stir gently and cover the skillet to soften.

After 1-2 minutes, uncover the skillet and stir occasionally for an additional 2-3 minutes.

Once both softened and crisp on the outside, remove from heat.

Transfer kale, onion, bacon and sweet potatoes to one skillet (ovenproof or into a 9×13 roasting pan).

Make 4 spaces in the hash where you'd like to place the eggs. Carefully crack each egg into its designated space.

Place skillet/pan in the preheated oven until eggs are cooked to preference (about 10 minutes).

Using a potholder, remove from oven and enjoy!