Sweet Potato Pancakes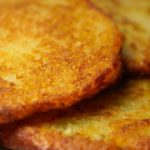 These pancakes packed with healthy complex carbohydrates make for a healthy start to your morning or a quick pick me up in the afternoon. Make in bulk and then simply reheat in the microwave.
4 sweet potato
8 egg
1/4 cup coconut flour
1 tsp cinnamon
1 tsp salt
2 tbsp coconut oil
Preheat oven to 420*F

Wrap your sweet potatoes in tin foil

Bake for 30-35 minutes

Once they are done, mash all sweet potatoes in a bowl removing as much of the skin as you can

Add eggs, coconut flour, cinnamon, salt

Stir until batter consistency is similar to traditional pancake batter

Coat frying pan with coconut oil (or butter) and cook just like pancakes

Enjoy!