Sweet Potato Shepard's Pie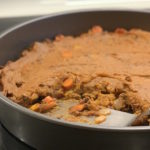 1 lbs ground beef (can sub lamb or bison)
2 whole carrots (peeled & chopped)
1 whole green pepper (chopped)
1 whole onion (chopped)
4 cloves garlic (minced)
1 tsp chili powder
1/2 tsp rosemary (dried)
1/2 tsp sea salt
1/2 tsp pepper
3 oz tomato paste
1/4 cup water
Topping
2 whole sweet potatoes (peeled, cubed )
1 tbsp coconut oil (sub ghee)
1/2 tsp chili powder
1/2 tsp sea salt
Preheat oven to 375*F

In a skillet on medium heat add ground beef, chopped carrots, peppers, onions and minced garlic.

Cook on medium heat until carrots are soft (12-15 min). Start on topping.

Once carrots are soft, stir in tomato paste, water, seasonings, salt and pepper.
Topping
Steam or bake the cubed sweet potatoes until fork tender.

Add all topping ingredients to blender or food processor and process until smooth.
Final Step
Transfer meat filling to a casserole dish (9×9) or 10" cast iron skillet and top the meat filling with sweet potato mash. Sprinkle with chili powder and sea salt.

Bake for 10 minutes! Enjoy!