Indoor cycling is one of the best ways to burn calories for weight-loss or simply to stay in shape. Luckily Charlotte has some of the best indoor cycle studios with a wide enough variety for you to find the one that fits your personality.
When choosing the best spin studio in Charlotte (for you), take into account the things that matter to you. Do you like metrics (seeing your speed/rpm) or do you like to just get lost in the music? Do you need it pitch black or do you want more visual stimulation. Do you want to dance on the bike or do you want to just sit and grind? No matter what your preferences are, Charlotte surely has a cycle studio for you.
We believe in finding the best studio for you based on your preferences! Everyone is different and likes different things – we will never rank studios based on ours. In no particular order here are the spinning studios :
CycleBar (Midtown, Waverly, Lake Norman)
CycleBar unites you with riders of all ages and fitness levels by creating an unparalleled multi-sensory, intoxicating journey. CycleBar's classes typically involve a little bit of everything from light choreography (don't worry you don't need rhythm) slow climbs to fast sprints. The entire ride is tracked via your bike computer that gives you immediate feedback with your speed and power output. The instructors will flash the live scoreboard up a few times during class so you can see how you stack up with the other riders in class. You can also opt-out to keep your stats private as well. Each CycleBar location has all the amenities you would expect including showers, free water (and water bottle for first-time riders), towels and shoes. You literally don't need to bring anything besides yourself. The CycleBar experience is very much like a party on the bike led by some of Charlotte's best instructors. Prepare to have fun and push yourself at the same time. CycleBar offers SweatNET members exclusive rates on memberships, class-packs and drop-ins.
Cycle South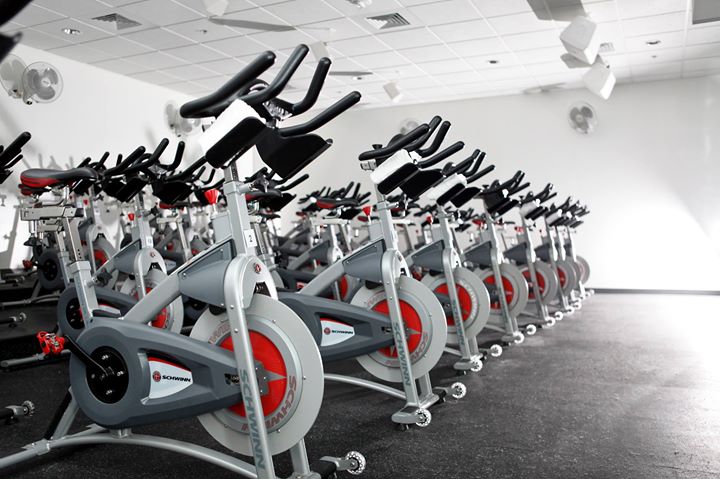 Cycle South is the only spin studio in Uptown Charlotte and comes ready to give you an amazing ride. Cycle South focuses on riding exclusively to the beat of the music and wants riders to experience their ride without the distraction of numbers. Go at the pace/resistance that feels right for you without any intimidation. Even for those of us who are type-a and need to have feedback on how well we are doing/improving, everyone will leave Cycle South dripping with sweat and out of breath from an amazing ride. Parking is validated so don't worry about the headache that can be Uptown parking. Oh, and you need to check out these locker rooms, they spared no expense in the amenities. Cycle South offers SweatNET members exclusive rates on drop-ins.
Ride or Die
If you are looking for SoulCycle in Charlotte, you may be sad that they have not come here yet, but you may also not need to look any further than Ride or Die. As one of the newest indoor cycling studios in Charlotte, Ride or Die certainly has brought a hip and edgy side of spinning to Charlotte. Located inside Urban MVMNT in SouthEnd, Ride or Die gives you that close, connected, intimate, and almost spiritual side of riding. No bike computers to distract you here, just you and the music in this very dark studio. Aside from the ride, one of the next best things about Ride or Die is the community it is attached to. SouthEnd Grind coffee is located in the same studio space along with the fitness classes offered by Urban MVMNT. Showers, bathrooms, towels, coffee, water, community…what more do you want? Ride or Die offers SweatNET members exclusive rate on drop-ins.
First Wind Cycling & Fitness
First Wind Cycling and Fitness is one of the most unique cycling studios in Charlotte. Located in the Design Center building (near Jeni's Ice Cream) First Wind takes everything about spinning and says "let's do it a little differently". From the graffiti art on the walls to the projection screen leader-board to the bikes which ACTUALLY LEAN FROM SIDE TO SIDE (yes you heard right, these bikes actually lean), First Wind is the clear rebel child in Charlotte fitness and is killing the game. Don't worry you won't fall off your bike, but you may get off of it in one of their mash-up classes which mixes cycling with either boxing or barre. First Wind gives you all the same amenities and does it all with a very authentically local feel. First Wind offers SweatNET members exclusive rates on memberships, class-packs and drop-ins.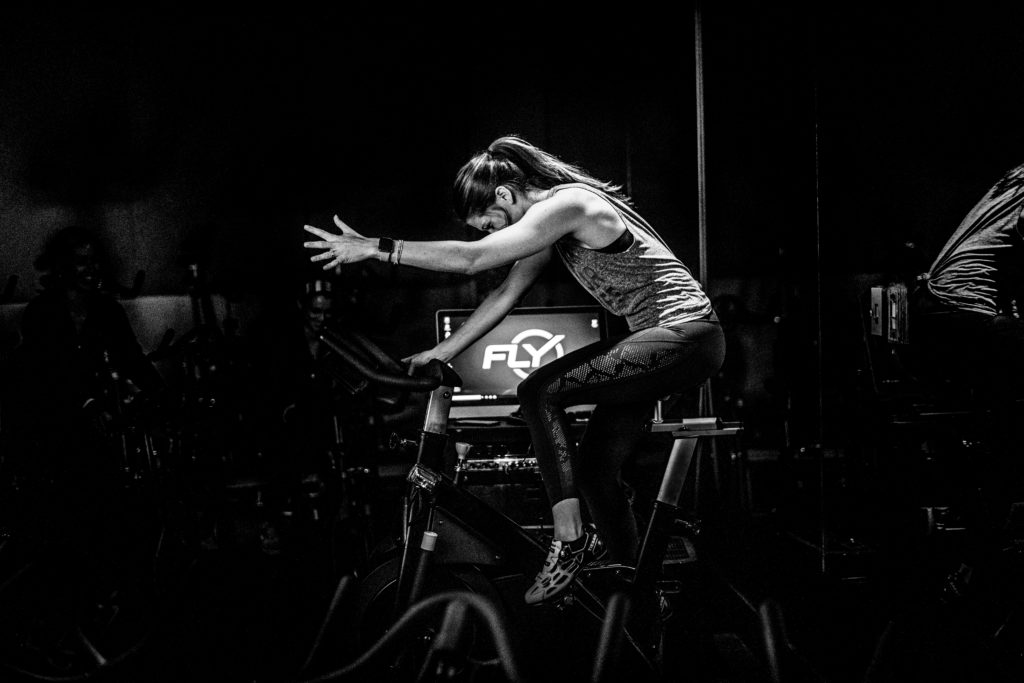 SkyCYCLE, formerly known as FlyWheel is one of the largest cycling studio brands in the world and Charlotte is lucky enough to have one of their top studios! FlyWheel focuses on being the premium cycling space in whatever market they are in.  Be prepared to be completely engulfed by the experience as the music rattles your insides and the instructors push you past your limits in some of the most closely curated cycling formats you can find. FlyWheel has bike computers on each bike and you can opt-in to put your stats up on the stat board which will be displayed a few times and at the end of class. Mobile Check-Ins, Water, Shoes, Towels.
PushPointe
South Charlotte finally has a cycling studio! PushPointe located in Fort Mill, SC features a dedicated 30-bike cycle studio and separate fitness room. PushPointe uniquely incorporates cardio conditioning, cross training, functional movement (non-weight bearing and weight bearing exercises) and core conditioning. Whether you want to lose weight or improve your level of fitness, this motivating, fun, and energizing studio is for you! PushPointe also offers fitness classes in a separate room if you are looking for unique small-class size offerings for strength, cardio and yoga! PushPointe offers SweatNET members exclusive rates on memberships, class-packs and drop-ins.
Turn & Burn Fitness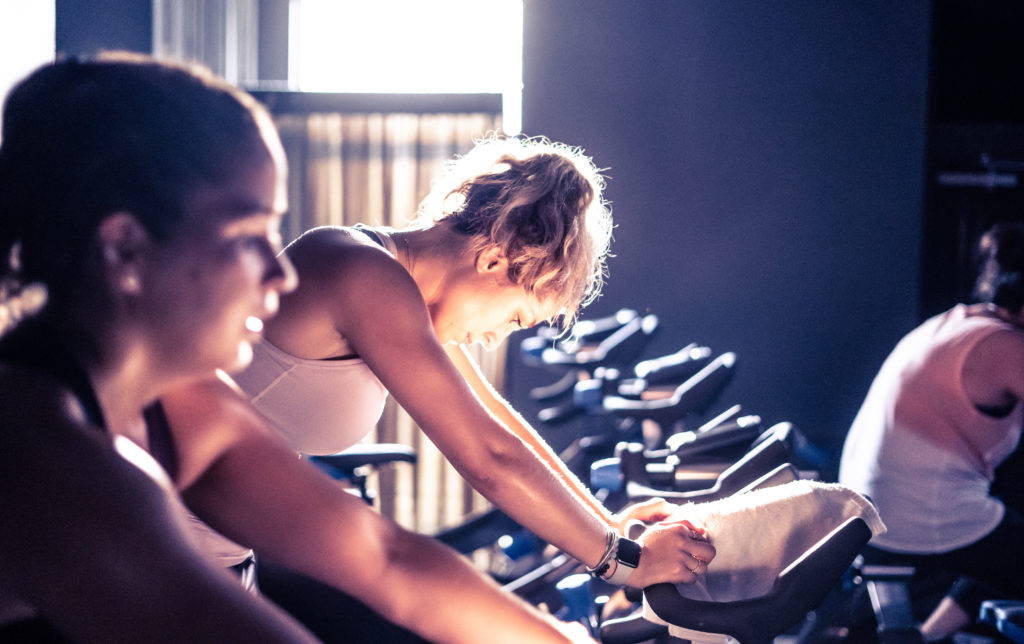 Turn & Burn is a fitness studio designed to offer amazing group exercise experiences in cycle, yoga, barre and boot camp classes. Located in Steele Creek, Turn & Burn gives classes that are sure to make you sweat. High-tech bikes with unique gear shifting and statistics give you the extra motivation to keep pushing. Have no fears of being lost in the dark, Turn and Burn's cycling studio is lit well with a beautiful evening sunset peaking through the windows. Community focused, Turn and Burn cares about each and every one of their member's and guests experiences. Turn and Burn offers SweatNET members exclusive rates on memberships, class-packs and drop-ins.
Jamie Scott Fitness
Formerly Sweat by JSF located in the Park Road Shopping Center, Jamie Scott Fitness has combined everything under one roof. Sweat by JSF is sure to get your heart pumping and the classes fly by with fast pushes, fun lighting, and some crazy combo moves! If you are looking to combine a night-club experience with a cycling class in Charlotte, look no further. Each bike is connected to the stat board to keep you honest and pushing hard throughout class. JSF offers SweatNET members exclusive rates on memberships, class-packs and drop-ins.