Yesterday we wrapped up my Yoga Adventure in Bali with The Travel Yogi. Right now I'm sitting on a plane on my way to Phú Quôc, a tiny island off the coast of Vietnam. The retreat flew by but at the same time, it feels like I've been here for months, like I'm living a different life that doesn't belong to me.
I've always loved to travel. There is freedom in leaving your life behind and living in an alternate universe for awhile. It helps put things into perspective, allows you to recognize the things you've been obsessing over don't really matter. I was given the gift of studying abroad in Paris when I was 20 years old. It was the first time I experienced this firsthand. My friend died in a car crash during spring break my sophomore year and I started dating his best friend, who also happened to be my neighbor. It was a toxic relationship, we eventually broke up and it was messy. When you're twenty, it's hard to figure out how to clean up a mess like that. Instead, I obsessed, drank heavily, stopped eating, cried a lot and found myself in a downward spiral of self-destruction.
One day, my favorite French professor, Dr. LaPaire, suggested I apply to study at Sorbonne Université in Paris. I got accepted, was fortunate enough to have parents who fully supported the decision, both emotionally and financially, and I left a month later.
I didn't know a soul. While this should be terrifying, at the time it was freeing because it meant no one knew anything about me. I moved in with a family who didn't speak English, took classes at an international school that were all in French, which again, was scary at the time but turned out to be a blessing. While I spoke French somewhat fluently, it was impossible to explain everything about my past in another language, so I kept it simple. My name is Jaimis, I'm a student, I'm American.
In Europe, they have two weeks off for spring break, so my new friends and I traveled. We went to southern France, spent a few nights at the coast. Flew to Barcelona, then Rome, then Sardinia, Sicily. I talked about who I wanted to be instead of who I was.
I came back different. I realized the world doesn't revolve around me and continuing to believe that would only bring me pain. I wanted to heal and move forward and knew the first step was forgiveness. I needed to forgive myself for my mistakes and forgive everyone around me for not being who I wanted them to be.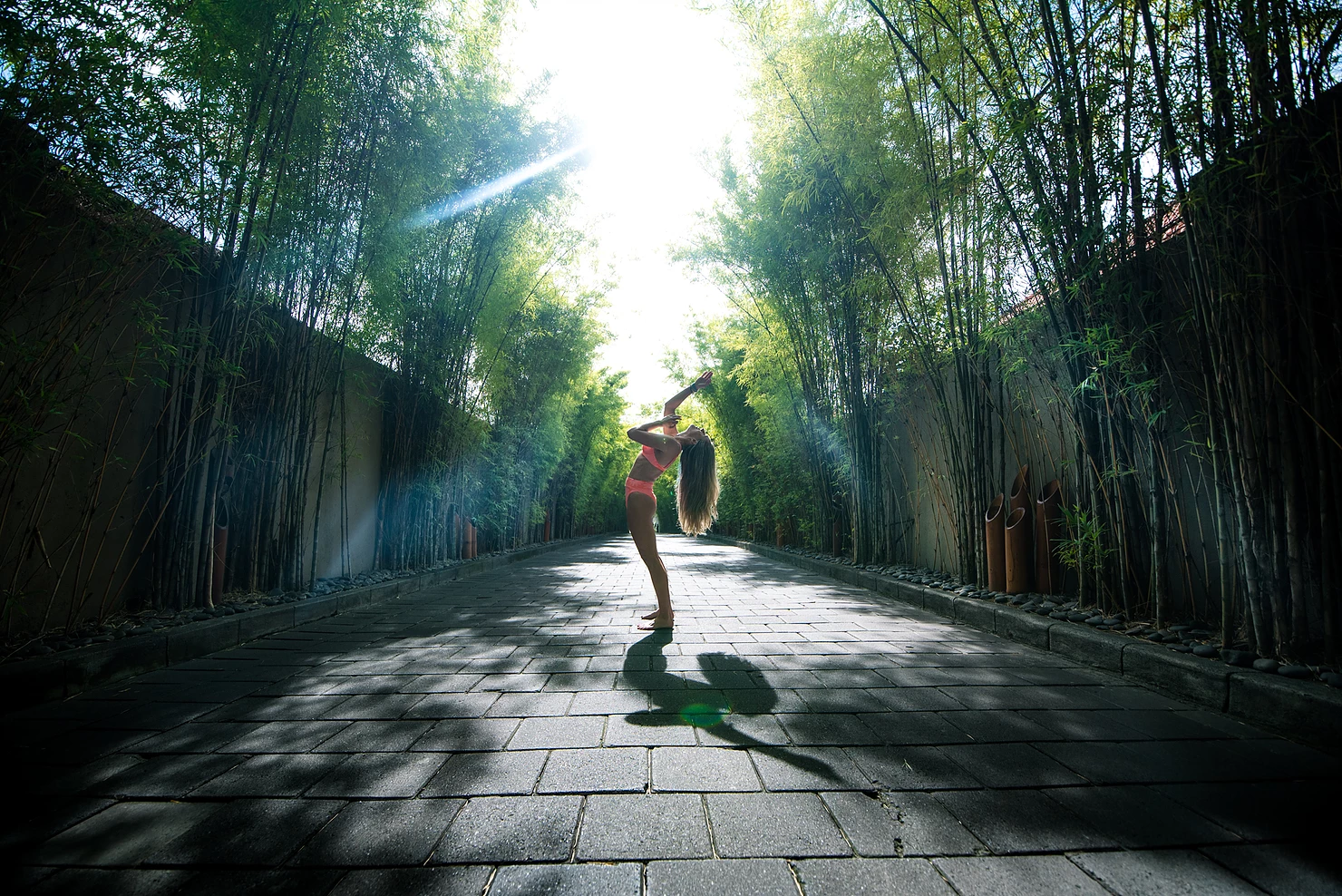 photo by Anne Bequette of STJ Creative Photography
I've always wanted to go to Bali. Something about that place always drew me in. When I speak with people who've spent time there, their eyes light up. It's a special place, they say. Impossible to explain. Just being there, it's healing.
When I made the decision to lead this retreat, my fear was that people wouldn't want to go that far. When it sold out in less than a week, I realized there are people who actually need to go that far to begin to heal.
Yes. Sometimes distance is key.
Our group of 17 was special. Many of them are friends from the islands, some still live on St. John and St. Thomas, some who now live in different parts of the U.S. by choice, some displaced by the hurricanes. Some are mothers and making this trip was a big deal. Two are yoga teachers from Charlotte, one woman was a stranger at our retreat in Nicaragua and since has become a dear friend, a couple from California celebrating their anniversary.
Everyone has their stories of pain, heartbreak, loss, trauma. Pain is relative, so while the stories look different, there was somehow and unspoken understanding from the beginning: we came across the world to figure it out, whatever "it" is. I want to heal myself. I want to get unstuck, to forgive, to move forward. I want to let go of the weight I've been carrying, and I want to believe that I deserve to be here.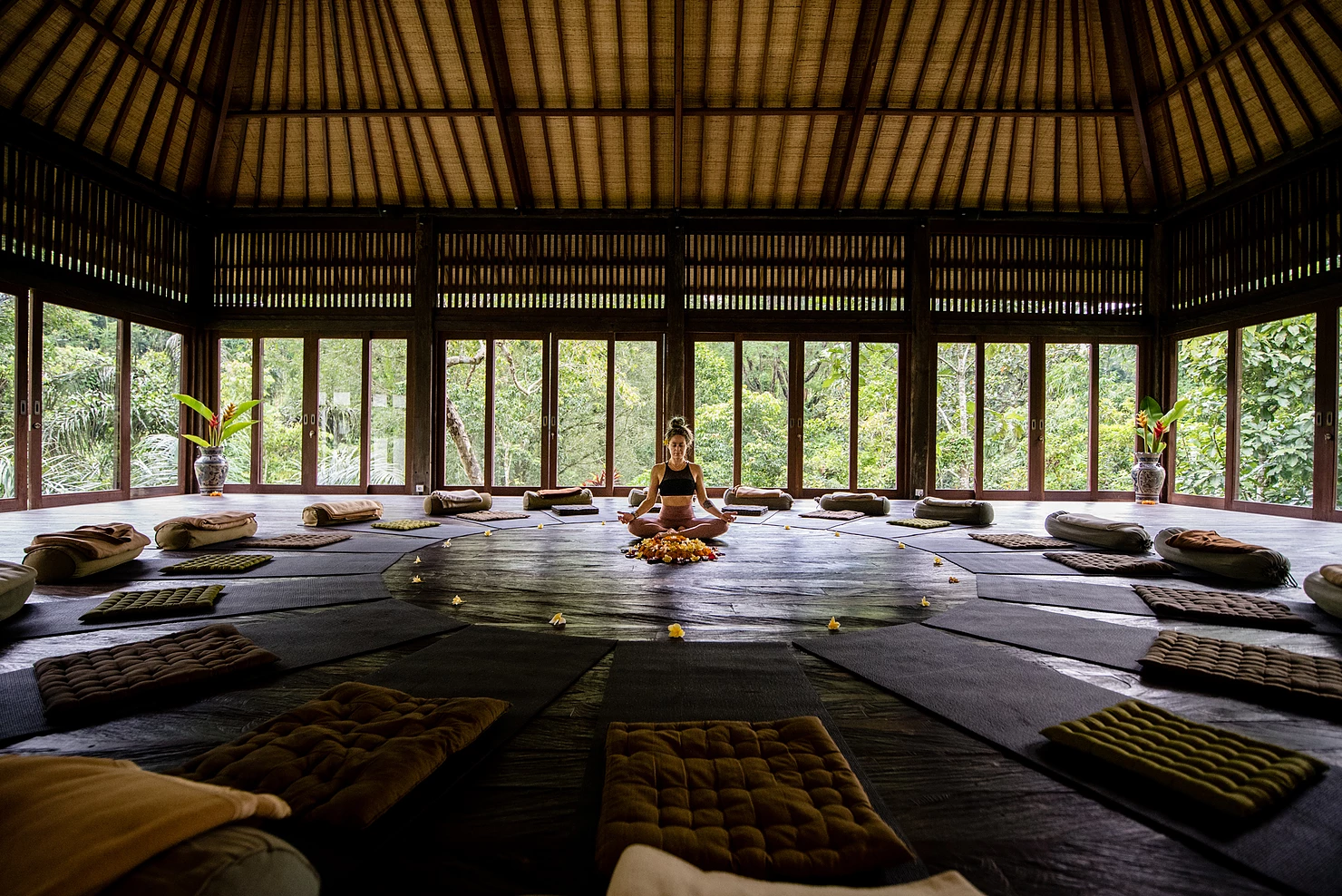 photo by Anne Bequette of STJ Creative Photography
We practiced vinyasa in the morning and restorative yoga/guided meditation in the evening before dinner. On the first day, we biked 15 miles on backroads through the country (and by biking I mean coasting gently downhill…I think I maybe only pedaled a total of 20 times), visited a traditional home, learned about Balinese culture, made flower offerings, visited sacred temples and shrines, bathed in holy spring water, took surfing lessons, did mini-photo shoots with my friend Anne, a professional photographer, drank wine together over dinner.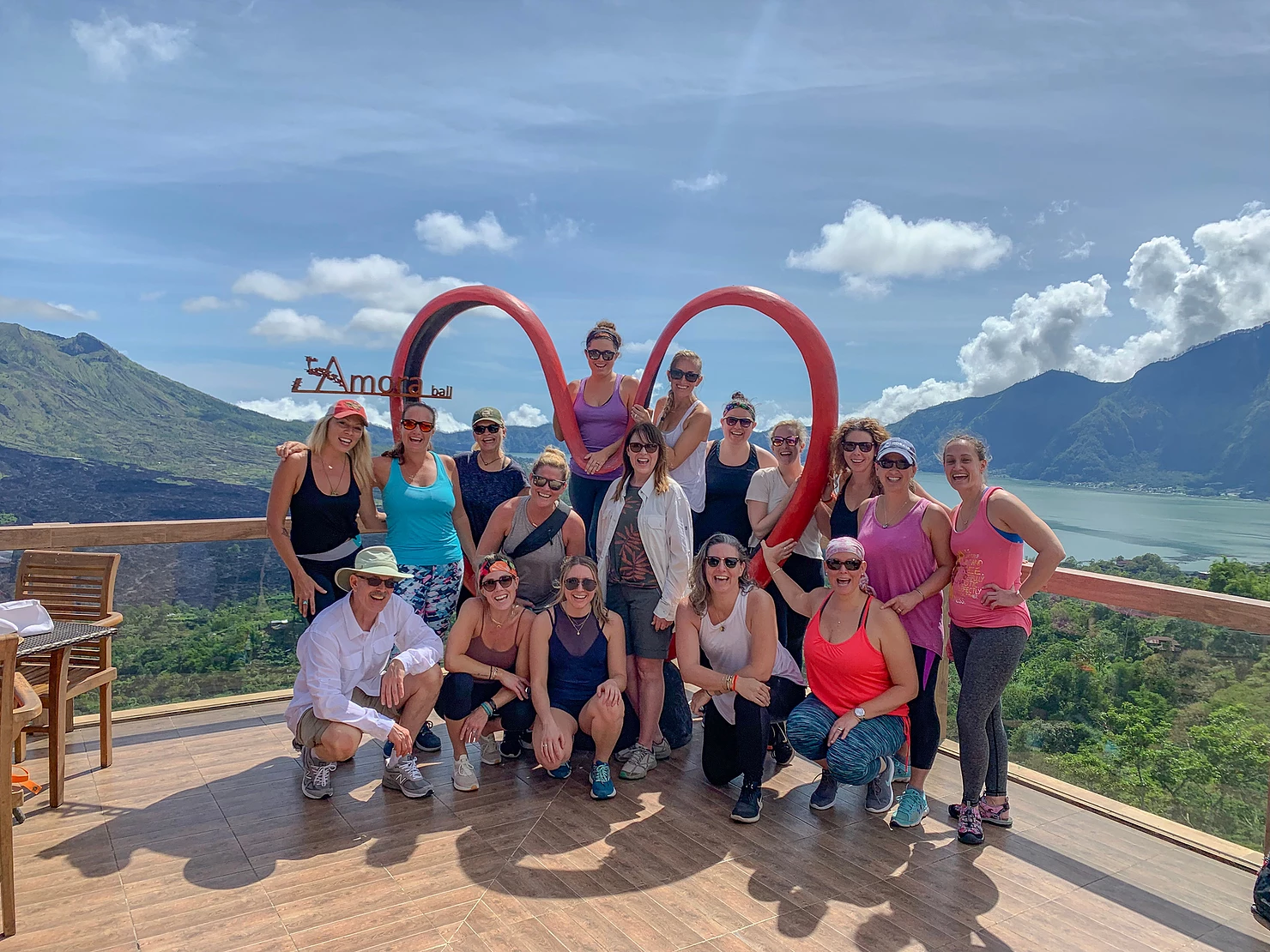 having breakfast overlooking an active volcano before our bike ride across the island.
Our guide, Surya, was with us all week. Answering questions, offering insight into Balinese customs and traditions, teaching us the language, handling anything and everything we could ever need. When Anne suggested getting a tattoo and I shot it down, not wanting to go to a random shop, she called her friend, an award-winning tattoo artist visiting from Australia and talked him into giving us late night appointments. We all cried real, heavy tears when we said goodbye to her. I feel emotional about it now, typing this. I hope we cross paths again soon.
For our closing ceremony on the last night, I led a Solstice practice. I offered freeform movement as another way of expressing everything you've wanted to say, to dance through all the pain you've pushed away and refuse to let yourself feel. I spoke about honoring the darkness and the power of giving yourself permission to not be okay. How life is hard and sometimes really fucked up things happen and it feels like you might not make it through but when you do, you're so much stronger. You realize how resilient you are. When your heart breaks, and you eventually put the pieces back together, you realize they don't fit in the same way because when your heart breaks, it expands. Part of healing is recognizing that pain—especially profound loss and trauma—changes you. You can't go back. Your only choices are to stay stuck or figure out how to put one foot in front of the other.
After a week of doing yoga twice a day, getting massages and bodywork, teaching and talking about forgiveness, letting go, healing yourself, allowing yourself to be supported, the power of connection and being immersed in the jungle and riding waves in the ocean, hearts finally softened. In savasana, tears fell hard for everyone in the room, including me. I could feel it. The tears felt like a choice for everyone: choosing to heal, to let yourself feel the pain, even when it hurts so fucking much.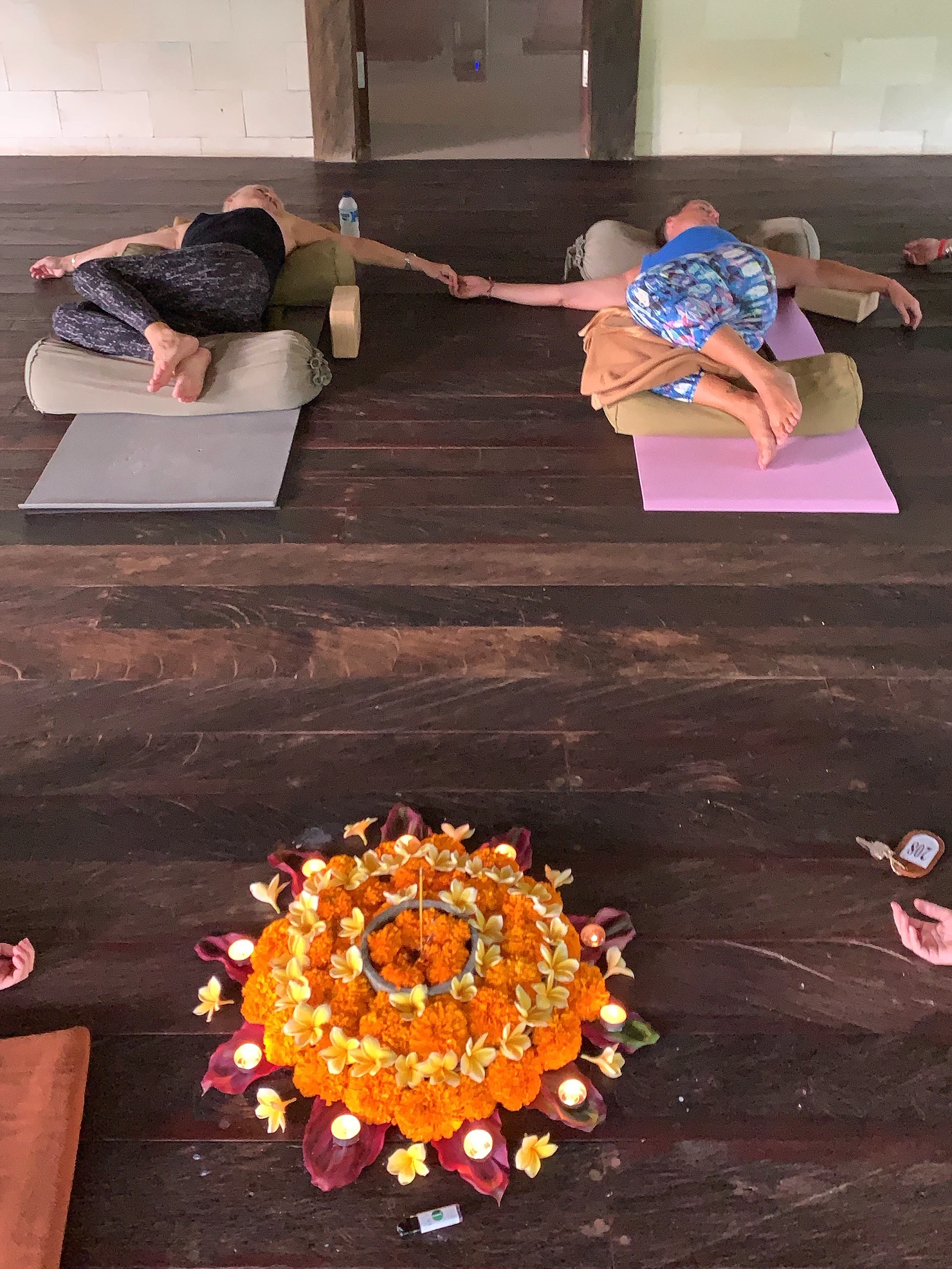 my soul sisters, Kelli and Dana, supporting each other during evening restorative practice.
This is the real yoga. The downward dogs and hip openers and breathing practices and guided meditations are just tools to get us to a place where we can be honest with ourselves about where we are.
As I looked around the room, I could physically feel the weight everyone carried all the way across the world. The profound loss of losing a parent. The end of a marriage. The heartbreak when a relationship ends. The trauma of going through two category 5 hurricanes, thinking you're going to die. Coming out alive to find your home and business completely destroyed. The debilitating guilt of not having your home or business completely destroyed when everyone else's was. Leaving the life you've built behind and trying to figure out how to start over. Trying to figure out where you belong.
No one can heal you but yourself. It's hard work. You can't rush it. It's not linear. It's a chaotic rollercoaster ride and as soon as you think you have it figured out, you go for another sudden, downhill ride. But if you hold on, you'll start to go back up again.
Self-love and self-healing is an inside job. But if you're lucky, you find other people who are doing the work too. They're on their own rollercoaster, adjacent to yours, cheering you on because they know it's a wild ride. When you get low, they hold space for you to be there for awhile and then reach out and pull you up when you're stuck. They share the tools that work for them. They find ways to let you know you are not alone.
That's what this week was: a group of people exploring a sacred part of the world, practicing yoga and self-love, making steps toward healing, sharing stories and experiences, connecting, exchanging tools, and holding space for each other to be where they are.
This week, I learned that physically leaving your life behind, moving your body to remember you're not stuck, and accepting that heartbreak changes who you are is what some of us need to begin to heal.
Maybe your tools are different. This is just me sharing a few of mine in case you're on a downhill ride. Hold on. You'll eventually start to go back up again.
XX,
Jaimis