@thecleanlifemama Whole 30 Shrimp Fajitas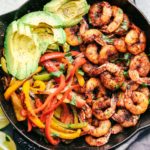 1 lb peeled (deveined wild-caught shrimp)
1-2 cups chopped bell peppers
1 whole small yellow onion chopped
2 tbsp olive oil
1 tsp cumin
1 tsp chili powder
salt and pepper to taste
Preheat the oven to 450 degrees. Line baking sheet with parchment paper.
In a bowl, combine all ingredients and mix until shrimp and vegetables are evenly coated with seasoning.
Spread mixture evenly over a single layer on the parchment paper and pop in the oven for 8-10 minutes or until shrimp is fully cooked.
Serve over a bed of greens with a squeeze of lime juice and sliced avocado or pop this mixture into a tortilla and add almond cheese. Enjoy!