@thecleanlifemama Whole30 Egg Bake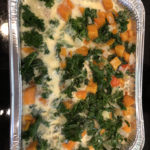 1 lb compliant breakfast sausage (or 1 pack of @aidells sausage (chopped into bite sized pieces))
2 1/2 cups butternut squash (diced (sweet potatoes or white potatoes can also be used here!))
1 whole yellow onion (chopped)
1 whole red bell pepper (chopped)
2-3 cups fresh kale (removed from stems and chopped)
10 whole eggs
1/4 cup canned full-fat coconut milk (use solid part only)
1 pinch Trader Joe's Everything But The Bagel Seasoning (to taste. Or garlic powder, salt + pepper)
Preheat oven to 400
Line a baking sheet with parchment paper
Place squash and pepper on baking sheet. Lightly coat with olive oil, season with S+P and put in the oven for about 10 minutes.
While veggies roast, cook sausage in a pan
Once sausage is cooked, add onion to the pan and cook until tender
Add kale to sausage/onion pan and allow to cook for a few minutes
Crack eggs and whisk in a bowl with the your seasoning and the solid parts of the coconut milk (do not use watery part)
Remove squash and peppers from oven.
Layer into a well coated 9×13 pan (I use coconut oil) in the following order: sausage/kale/onion/squash/peppers /egg/coconut milk
Bake approximately 20 minutes in 400 degree oven or until edges start to brown and eggs are cooked through.
Note: Frozen veggies will not work well in this recipe as they will produce too much water. Great to make on Sunday and slice for the week for an easy on-the-go breakfast.
[nutrition-label]