Tortilla Soup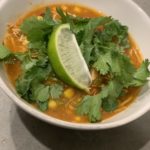 1 bag tortilla chips
4 cups chicken broth
2 lbs chicken breast
1 15 oz black beans (drained and rinsed)
1 4.5 oz green chilies
2 cups frozen corn
1 15 oz diced tomatoes
1 cup salsa
1 cup onion
1/2 tsp garlic powder
1 tsp cumin
2 tbsp taco seasoning
1 whole avocado
2 whole Limes
1 bunch cilantro
Bring 1 pot of water to a boil and add the chicken breasts. Cook 20-30 minutes or until cooked through. Remove the chicken breasts from the pot and shred with forks or a mixer.
In another pot, combine chicken broth, shredded chicken breast, corn, diced tomatoes, drained black beans, spicy green chilies, salsa, chopped onion, garlic powder, cumin, and taco seasoning.
Stir contents and bring soup to a boil. Turn heat to low and let it simmer. Serve warm over tortilla chips and garnish with sliced lime, avocado and cilantro to taste!