Tuna Stuffed Avocados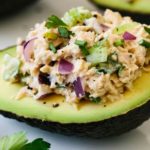 Delicious low-carb, keto, Whole 30, and paleo-friendly lunch or snack!
4 avocados
10 oz tuna
1/4 cup mayonnaise
1 stalk celery (diced)
2 tbsp red onion (diced)
1-2 tbsp parsley (chopped; may substitute chives or any other herbs)
1/2 tbsp dijon mustard
pinch salt
pinch pepper
Add the tuna, mayonnaise, diced celery, diced red onion, herbs, dijon mustard, salt, and pepper to a mixing bowl and combine.

Slice the avocados in half and remove the seed.

Dollop a few spoonfuls of tuna salad onto each avocado half.
Photo from: https://downshiftology.com/recipes/tuna-stuffed-avocados/?utm_medium=social&utm_source=pinterest&utm_campaign=tailwind_smartloop&utm_content=smartloop&utm_term=17725378