Vegan Spring Rolls with Peanut Sauce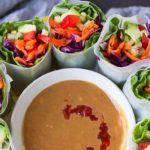 Great as an appetizer or paired with a dinner!
The Spring Rolls
8 rice paper (wrappers)
4 leaves green leaf lettuce
1 cup red cabbage (chopped)
1/3 cucumber (julienned into 1.5-inch pieces)
1 large carrot (grated)
3/4 avocado (thinly sliced)
3/4 red bell pepper (thinly sliced)
The Peanut Sauce
1/4 cup peanut butter (natural)
2 tbsp lime juice (freshly squeezed)
2 tbsp soy sauce
1 tbsp agave nectar
1 tsp rice vinegar
1/2 tsp chili garlic sauce
The Spring Rolls
Fill a wide serving dish with hot water. Place one spring roll wrapper into the water and submerge until it just starts to soften., about 10 seconds.

Transfer wrapper to a cutting board.

Top with lettuce, 2 tablespoons cabbage, 5 julienned cucumber slices, 2 tablespoons carrot, 2 slices of avocado, and 2 slices of bell pepper.

Fold in the sides of the rice paper, then roll tightly. If you've ever rolled a tortilla into a burrito, this is exactly what you're doing here.

Serve whole or cut in half.
The Peanut Sauce
In a medium bowl, whisk together peanut butter, lime juice, soy sauce, agave nectar, rice vinegar, and chili garlic sauce until smooth.
Photos from: https://www.cookincanuck.com/vegan-spring-rolls-peanut-sauce/