Veggie and Turkey Meatballs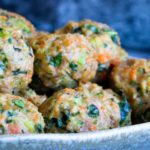 These meatballs are easy to change up- just switch the veggies and use a different kind of meat!
1 lb ground turkey
1/2 cup broccoli (lightly steamed, finely chopped)
1/2 cup kale (finely chopped; may substitute spinach)
1/2 cup carrot (finely chopped)
2 tbsp cilantro (fresh, finely chopped, may substitute basil or parsley)
1 large egg (beaten)
2 tbsp butter (melted, may substitute ghee )
1 tbsp coconut flour
1 tsp salt
1/2 tsp garlic powder
pepper (to taste)
Preheat oven to 400*F.

Line a baking sheet with parchment paper or place a cooling rack on top of a baking sheet.

Combine all meatball ingredients in a large bowl until well combined.

Roll about 28-30 meatballs and place on baking sheet. (You can use an ice cream scoop for this step to get uniform balls)

Bake for 15-18 minutes, until cooked through and slighlty golden.
A food processor speeds up the process of chopping the vegetables!
Photo from: https://www.savorylotus.com/loaded-veggie-turkey-meatballs/?utm_medium=social&utm_source=pinterest&utm_campaign=tailwind_tribes&utm_content=tribes&utm_term=595136230_22383586_209191