Whole 30 Buffalo Chicken Bake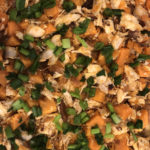 1 whole plain rotisserie chicken (pulled off the bone and chopped)
1 lb Whole 30 Compliant Bacon (like Pederson Farms)
3-4 cups diced sweet potatoes
1/2 cup chopped green onions
1/2 cup olive oil
6 tbs Frank's Hot Sauce
Cook bacon for about 12 minutes or until crispy in a 400 degree oven on a sheet pan covered with parchment paper.
Remove bacon from baking sheet and place on paper towels to absorb fat. Once cooled, crumble into bite-sized pieces.
Put sweet potatoes on sheet pan (right on top of the bacon grease). Gently stir to coat sweet potatoes in bacon grease. Lightly season with salt and pepper and put in the 400 degree oven for about 15 minutes.
In a large mixing bowl, combine chicken, crumbled bacon, sweet potatoes, olive oil and Frank's Hot Sauce.
Transfer mixture to a prepared baking dish and top with green onions.
Reduce oven temperature to 350 and bake casserole for about 20 minutes.
Serve warm! This casserole freezes well and is great reheated — we even love it for breakfast topped with one of our sheet pan eggs.
[nutrition-label]